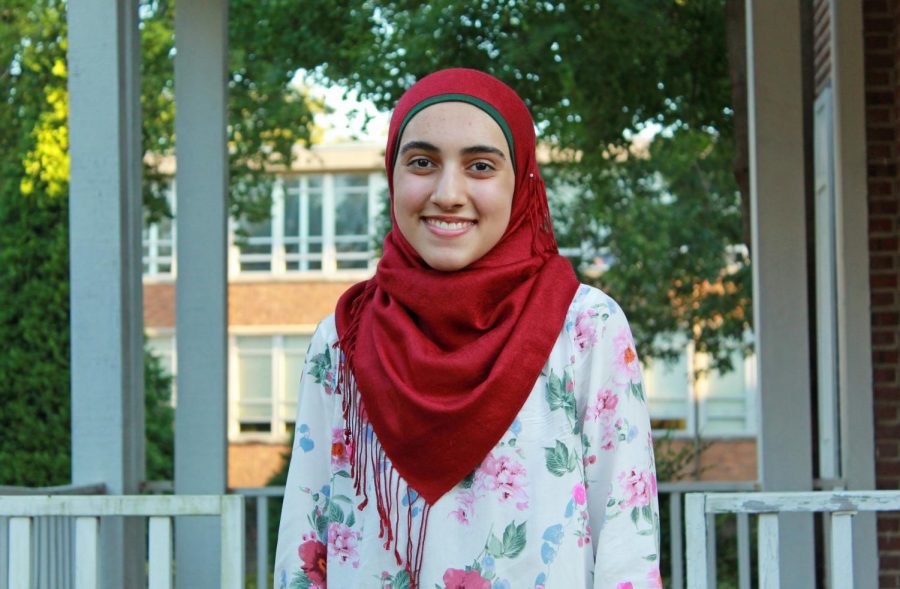 Muneebah Umar, the Editor-in-Chief of
The Vision
, lives in Starkville, MS, and is part of the Class of 2021. She previously served as Lead Copy Editor.
The Vision 
is an outlet for her to express herself creatively. Outside of class, you can catch her reading, drinking lots of coffee and rewatching Parks and Recreation. Aside from
The Vision
Muneebah is an emissary, co-leader for Women Influencing Lives through Literature, co-president of French Club and research assistant. After high school, Muneebah plans to major in neuroscience and ultimately pursue a career in the medical field.
Muneebah Umar, Editor-in-Chief
Oct 30, 2020

Drama Club hosts first ever Poetry Night

(Story)

Oct 16, 2020

MSMS hosts second film festival virtually

(Story)

Sep 29, 2020

'Enola Holmes': A one-woman show of a film

(Story)

Sep 14, 2020

Some new and revived clubs at MSMS

(Story)

Sep 02, 2020

MSMS gets its first esports team

(Story)

Aug 24, 2020

COVID-19 and its impact on seniors' college applications

(Story)

Aug 17, 2020

Junior orientation introduces Class of 2022 to MSMS, virtually

(Story)

Aug 17, 2020

Views from the Vision: New Seniors Talk College

(Story)

Aug 10, 2020

Seniors return to campus for one day before online orientation

(Story)

Aug 10, 2020

Umar: Colleges consider students during pandemic admissions

(Story)

May 07, 2020

Alumni reflect on how well MSMS prepares graduates for higher education

(Story)

May 07, 2020

The Views from The Vision: The Teenage Experience

(Story)

May 07, 2020

The other side of the desk: Alumna- Dr. Elizabeth Morgan

(Story)

Apr 30, 2020

'Extraction' should be removed

(Story)

Apr 16, 2020

Umar: Productivity isn't the most pressing issue

(Story)

Apr 02, 2020

Comebacks and Corona – Entertainment Rundown

(Story)

Mar 05, 2020

Nguyen named Mississippi High School Journalist of the Year

(Story)

Mar 05, 2020

Some actors get all the love – Entertainment Rundown

(Story)

Feb 13, 2020

MSMS competes in regional FBLA competition

(Story)

Feb 13, 2020

March for Our Lives hosts voter pledge drive

(Story)

Feb 06, 2020

The Views from The Vision: Disney, The Oscars, and Valentine's

(Story)

Jan 30, 2020

'Tales' holds auditions for 30th annual performance

(Story)

Jan 16, 2020

The tornadoes didn't wipe the waves out

(Story)

Dec 12, 2019

'Southern Voices' announces winners of 32nd annual competition

(Story)

Nov 14, 2019

Students volunteer at Purple Heart Gala honoring veterans

(Story)

Nov 08, 2019

The Views from The Vision: Tim Hortons and TikToks

(Story)

Nov 07, 2019

3rd place finish at state brings Waves XC season to an end

(Story)

Oct 31, 2019

No one is joking around – Entertainment Rundown

(Story)

Oct 24, 2019

Blue Waves sprint in Ita(win)ba

(Story)

Oct 18, 2019

Wiygul, Rowland speak to local Rotary Club

(Story)

Oct 10, 2019

Fresh heir(s) returns to Downton

(Story)

Oct 03, 2019

Mr. Ian Barclay: Alumnus and Teacher

(Story)

Sep 26, 2019

Mr. Tony Green: 2010 alumnus and physics teacher

(Story)

Sep 26, 2019

Onika's Back – Entertainment Rundown

(Story)

Sep 19, 2019

Mr. Thomas Richardson: Alumnus and Teacher

(Story)

Sep 19, 2019

Students take on annual College View

(Media)

Sep 12, 2019

Umar: We can turn the tide of climate change

(Story)

Sep 12, 2019

Dr. Stevens: Alumnus, teacher and counselor

(Story)