Umar: Productivity isn't the most pressing issue
When quarantine became an increasingly likely possibility, my Instagram feed was full of posts describing Issac Newton's discoveries during the plague. Shakespeare, I was told, wrote "King Lear," "Macbeth" and "Antony and Cleopatra," while at home during the bubonic plague of London. I too could do something equally incredible, like turn my living room into a home gym or become the morning bird I've never been. My feed and inbox told me it was just a matter of "self-discipline." So the productivity gurus of social media and I pledged to do something more with our lives. 
"I first thought I could get a lot done during quarantine like catching up on studying for AP exams or even the ACT," junior Laney Etheridge said.
The idea of work has always been alluring to our generation, one that has pretended to embrace the constant work culture present in America today. Even during a global pandemic, we're told that every aspect of our lives can be improved in one way or another. Journalist Anne Helen Petersen explained that this mindset has pervaded into everything that we do. "We're so used to making every moment of ours productive in some capacity," she said. "Like, I'm on a walk, I should listen to this information podcast that makes me more informed or a better person."
There is this constant desire for some sense of familiarity during this time. For MSMS students, our entire schedule was built around classes, room check, work service; we had these checkpoints in our day that dictated what we did in between. Now at home, we don't have that or friends to get us through the academic week, but we still have the neverending stream of assignments and Canvas notifications. For many, we felt that continuing school equated to spending all day doing nothing but work. Junior Clare Seo felt that at the start of distance learning, she had to get things done right away. 
"At first, I was definitely overwhelmed with all my classwork so that weekend I had to spend a lot of time rethinking and realizing I don't need to finish all my schoolwork in just the first three days of the week," Seo said.
At MSMS, we were lucky to have a strong community and be surrounded by supporting peers; however, we are constantly thinking of our next assignment, test, extracurricular activity. For MSMS that's the norm and what makes it unique. That doesn't mean we have to transfer that same mindset to our temporary life at home. The realization may take time to hit, but we don't need to retreat to our MSMS habits to achieve our goals. 
"It will take a second for me to do all of it, but I have plenty of time, and I'm going to squeeze every opportunity out of this quarantine. I know my body needs a break from working approx. ten hours a day, so I spread my work out and really try to focus on getting my mind in a better place so that I can tackle senior year to the best of my ability," Etheridge said. 
Aside from our routines, the degree to which the world faces uncertainty regarding COVID-19 is something to take into account. Stressing every day about being needlessly "productive," while simultaneously turning the other way from the real reason this is all happening, will not achieve anything beneficial.  
"I think the reality of the situation that we're going through didn't hit me until schools got extended for the first week," junior Karlene Deng said.  "I started to worry about whether I'd ever go back and see all my friends, and not knowing when this was all going to end was the scariest part."
Now is a time to find actual comfort as best we can during this time and acclimate to this new situation. Author Jenny Odell wrote, "we inhabit a culture that privileges novelty and growth over the cyclical and the regenerative." However, productivity and self-growth can co-exist and should during a time like this. For me, I'm privileged enough to have a stable home life, so I can genuinely try to adopt better habits during this quarantine since my life has not changed too drastically. For many, however, their entire life is shifting, so first, they must learn to adjust to this new reality, and the additional pressure of having the "perfect routine" is unnecessary.
About the Writer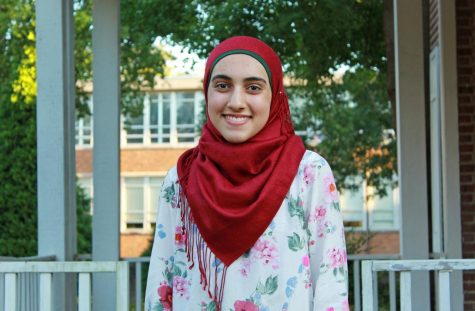 Muneebah Umar, Editor-in-Chief
Muneebah Umar, the Editor-in-Chief of The Vision, lives in Starkville, MS, and is part of the Class of 2021. She previously served as Lead Copy Editor....