Blue Waves sprint in Ita(win)ba
Blue Waves cross country walked away with a plethora of season bests (SB) and personal bests (PR) from their meet last Saturday in Itawamba, Mississippi.  Despite being one of the few 2A schools present, MSMS was able to secure third place overall out of the 12 attending schools. 
There was a lot of anticipation surrounding this meet as the team inches closer to the state championship.
"We've had a lot of energy because it's very close to the state meet, and we're all very close to running our best," junior Luke Bowles said. "We were all expecting to have very fast times."
Junior Bryce Harrison was the first Blue Wave runner to cross the finish line, placing seventh overall with an SB of 17:59. There were a few other Blue Waves placing in the top 50. Bowles finished 10th and set a new PR of 18:05. Juniors Chandler Bryant and Colby Brown placed just 11 seconds apart with the times of 19:17, a PR for Bryant, and 19:28, an SB for Brown, placing 23rd and 28th respectively. Other Blue Waves finishes were senior Elijah Dosda and junior Cameron Wright who finished neck-and-neck at 73rd and 74th place respectively. The remaining runners, junior Matthew Dunn, senior Aiden Leise, junior Max Grossman and senior Will Sutton, sprinted to the finish line and placed 107th, 131st, 141st and 146th, respectively. Dunn started the race with a disadvantage, as he forgot to attach his number to his shirt just before the race started, causing him to start the race, by Leise's estimate, about a minute and a half late.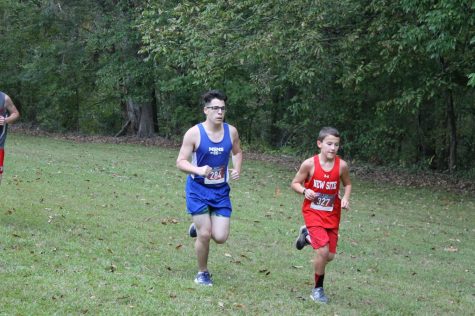 The Blue Waves scored a 3rd place win and finished with 116 points and an average time of 19:17. 
The Blue Waves were excited about the number of PRs and SBs from this meet.
"I was very happy with how we did overall. The team performed very well and we're improving at the rate we need to," Bowles said. 
Senior Linda Arnoldus was the sole runner representing the Lady Waves. She persevered, however, and came in 56th with a time of 27:21, an SB for Arnoldus. Despite the absence of her fellow teammates, Arnoldus was happy to run for the Lady Waves.
"Although I wish my Lady Waves were there with me, I still ran a good race. I was glad I went so that I could represent the Lady Waves," Arnoldus said.
The boys' team is currently ranked fifth in the state's 2A division, while the girls are ranked 10th. The runners are looking to maximize their times ahead of the state meet.  
"I'm elated for the state meet [this] year. I'm very ready to run and see how the team does overall because I know we have the potential to win the state championship overall," Bowles said.
Both teams are working hard in order to be in peak condition for the state championships. 
"I've been running with my team and doing some conditioning," Arnoldus said. "We have a really good girls team this year. I wish there were more girls running, but other than that, everyone on our team is really well prepared."
The team's next meet is the state meet in Clinton on Nov. 2.