MSMS hosts second film festival virtually
Despite COVID-19 restrictions, Cannes, Venice and MSMS all managed to continue their film festivals this year. Senior Gracie Rowland sent out a call for submissions in September, and the festival showed eight films this year, three more than the inaugural festival last year.
The Film Festival Committee, composed of Rowland and seniors Nina Vo, Fiona Dawe and Kaia Williams, hosted a Zoom call for anybody to join on Monday, Oct. 12. Over 70 people ended up attending the festival.
Like many students, this was junior Elena Eaton's first film festival, and MSMS is the first school she has been to which hosts events like this.
"I had never been to a high school film festival before," Eaton said. "I was very impressed by the work my classmates put together. Each film carried with it a piece of the director. Getting to glimpse that little bit of character in addition to the engaging, thought-provoking films made the festival an experience I thoroughly enjoyed." 
The sheer number of submissions this year came as a surprise for both the festival committee and attendees. Juniors and seniors worked together on films, and some students who lived across the state collaborated through Zoom.
"There were way more submissions and attendees than we ever expected," Dawe said. "Personally, I didn't think that many people would participate because everyone is so separated because of the pandemic."
Many students were not deterred by COVID-19 restrictions and saw the festival as an escape from routine school work. Rowland, who made and starred in her own short film, used the festival as an opportunity to challenge herself. 
"I've made a few short films before, but I wanted to compete in the competition in order to challenge myself to create the most creative and emotional piece possible," Rowland said. "Also, I needed a break from school so doing something in the arts helps." 
The festival presented awards after showing all the films. Teachers Dr. Thomas Easterling and Mr. Thomas Richardson and Goen Hall Assistant Director Ms. Nisa Moody were this year's judges. All three judged last year's submissions as well. 
The winning films and actors were as follows: 
Best Picture 
 "Autophobia" by Caleb Jenkins
Best Cinematography
Honorary Mention: "Dance of Death" by Josh Bates
Best Directing:
1st Place: "Autophobia" by Caleb Jenkins
2nd Place: "Let You Go" by Audrey Robinson
Honorary Mention: "Now I Haunt Myself: An Undoing" by Gracie Rowland
Most Creative:
1st Place: Tie between "Dance of Death" by Josh Bates and "Time to Die Too" by the Time Die Crew"
2nd Place: Tie between "Real Sheet" by Zach Medlin and "Now I Haunt Myself: An Undoing" by Gracie Rowland
Honorary Mention: "Evergreen" by James Harden and Logan Harden
Best Acting:
1st Place: Gracie Rowland in "Now I Haunt Myself: An Undoing"
2nd Place: Zach Medlin (Dick) in "Autophobia"
Honorary Mention: Piper Holley (The Murderess) in "Let You Go" 
The festival also gave students a chance to get to know their peers more and put names to faces since most students have not gotten a chance to officially meet.
"Getting to see that little bit of character each film revealed about their respective directors was easily my favorite part of the film festival," Eaton said. "With classes being virtual this year it's hard to get a feel for the personalities of your classmates; however, seeing my classmates express themselves through an artistic medium like film made the already entertaining and engaging viewing experience extra special."
Although the film festival is a new event, all four committee members are looking to expand the festival this year and make it into a long-running MSMS tradition. 
"We are planning on having another festival next semester and having some juniors help out so that we can keep this going for a while," Dawe said.
About the Writer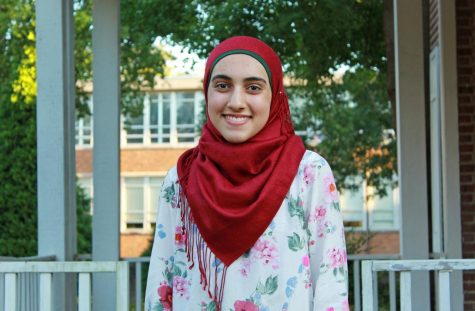 Muneebah Umar, Editor-in-Chief
Muneebah Umar, the Editor-in-Chief of The Vision, lives in Starkville, MS, and is part of the Class of 2021. She previously served as Lead Copy Editor....