3rd place finish at state brings Waves XC season to an end
The Waves cross country team left the State Cross Country Championships in Clinton, Miss. with a third-place victory in hand on Wednesday. The runners' entire season led to this pivotal meet. Multiple runners earned personal bests (PR) and four runners placed in the top 20. 
The meet, located at Choctaw Trails, marked the end of what has been a solid streak for the Blue Wave. Some runners felt disappointed that the season was coming to an end.
"Going to the meet was bitter-sweet. I was excited for the race but also sad that my first XC season was over," junior Skylar Nichols said.
The past Blue Wave successes motivated the runners and encouraged them that they could win.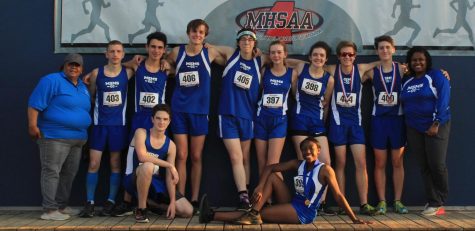 "I think the season caused us to feel that we would perform very well and had a chance to win this meet," junior Luke Bowles said going into the meet. 
While Walnut High School earned top honors, the Blue Waves earned third place overall. The runners received a total of 78 points and had an average time of 19:11, more than a minute faster than their previous meet in Itawamba. 
The individual runners also earned multiple top spots and PRs. Junior Bryce Harrison led the pack, placing second place with a time of 17:57, a PR for Harrison. Bowles finished seconds behind Harrison, placing third with a time of 17:58, another PR for the Blue Waves. This back-to-back finish was mimicked by juniors Chandler Bryant and Colby Brown. Bryant came in 19th with a time of 19:26, while Brown came in 20th with a time of 19:30. Juniors Cameron Wright, Matthew Dunn and senior Aiden Leise finished 40th, 60th and 90th, respectively, marking the end of the Blue Waves' season.
The Lady Waves also had three individual runners competing. Senior Niyah Troup and junior Nichols placed 57th and 58th place, in true neck-in-neck Blue Wave fashion. Junior Fiona Dawe placed 78th. 
This meet served as the conclusion of an important season for some of the runners. Many felt this season taught them valuable lessons about themselves and the future of cross country at MSMS. 
 "The season has really taught me about what it means to be on a team," Dawe said. "I looked forward to the races because I got the opportunity to be a part of something that mattered and a part of something where I felt valued." 
All the runners already have hope for next year's season and encourage future juniors to join and commit to the team.
"I think next year the Blue Waves will be able to get first and, maybe, the girls will be able to have a team," Dawe said. 
"I encourage everyone to join cross country because it is so much fun, and we all become like a family by the end of the season. It's absolutely a great experience," Bowles said.
This season has been the most decorated cross country season ever for MSMS.