Students volunteer at Purple Heart Gala honoring veterans
The Richard E. Holmes II Memorial Foundation hosted the Purple Heart Gala to honor veterans from all branches of the military on Saturday, Nov. 9, at Courtyard by Marriott in Columbus, Miss. MSMS students volunteered as servers under the guidance of Goen's Residence Hall Director Latoya Bledsoe. 
The Purple Heart is an award given in the name of the President of the United States to any member of the U.S. military who was wounded or killed during duty after Apr. 5, 1917. 
Bledsoe served as an intermediary for the Foundation and MSMS. She became aware of Holmes II Memorial Foundation's need for volunteers through MSMS Director for Student Affairs LeAnn Alexander and became committed to assisting the gala in any way possible. 
"I love providing students the opportunity to serve within the Lowndes County and Golden Triangle Area, so this was an opportunity not to pass up," Bledsoe said. 
Bledsoe gathered 10 student volunteers to act as servers. They served food to all of the guests, while simultaneously assisting both the kitchen and hotel staff in preparing the food for the gala. Needless to say, the students had their work cut out for them.
"Although hectic at times, we received so many compliments on a job well done," Bledsoe said. 
Students gained a plethora of opportunities and newfound understanding from this event. Not only did they earn volunteer hours, but they also interacted with veterans from the Columbus area, as well as other states outside of Mississippi. 
"It was very enlightening seeing all the people around me that served for our country. They were all prominent figures, not only in Columbus, because there were veterans who traveled from Illinois and Indiana to be there," said Nina Vo, a junior who volunteered at the gala.
The gala also served as a means to focus on the prevalence of mental illness among veterans, giving special attention to the increasing amount of Post Traumatic Stress Disorder (PTSD) among veterans. PTSD is often caused by the traumatic events many soldiers in active duty witness. It causes veterans to relive their worst moments from combat. Alongside this, the gala recognized 15 retired men and women who have earned the Purple Heart. Student volunteers and attendants heard first-hand accounts of the damaging effects of PTSD directly from veterans and family members of veterans.
"My experience was very eye-opening," said Skylar Nguyen, another volunteer and MSMS junior. "Even though you always hear about soldiers and veterans going through PTSD, this was a first-hand account of parents talking about their child going through it and other veterans talking about going through it to and saying they wanted to offer more resources for people with PTSD."
While some were affected more deeply by this event than others, the volunteers walked away feeling impacted by their experience. Amanda Anderson, an MSMS junior volunteer at the gala, was one of those who felt a personal tie to the event.
"It was very rewarding to see the smiles on their faces," Anderson said. "My grandfather is a veteran, so it made me feel very connected to him." 
Vo also felt touched by the gala, saying the gala was a "humbling experience."
This was an opportunity for students to not only volunteer and give back but also to further familiarize themselves with Columbus. Since many students come from all over the state, opportunities like these allow students can interact with locals and gain more insight into the Columbus community. 
About the Writer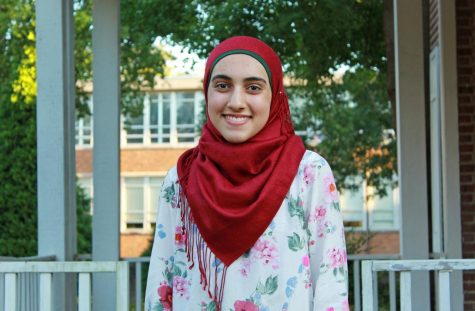 Muneebah Umar, Editor-in-Chief
Muneebah Umar, the Editor-in-Chief of The Vision, lives in Starkville, MS, and is part of the Class of 2021. She previously served as Lead Copy Editor....