Students take on annual College View
On the morning of Sept. 16, a different energy surrounded Goen and Frazer Halls as students prepared for the annual College View, hosted at the Trotter Center Convention in downtown Columbus. Students awoke early to dress up, print their own information cards and prepare a list of questions to ask college representatives. 
In Trotter, representatives from sixty-one colleges awaited a barrage of questions. The universities represented ranged from large public schools, such as Mississippi State University and the University of Alabama, to smaller private schools, such as High Point University and Emerson College. 
Most seniors had already compiled a list of which representatives they wanted to speak with. Juniors, on the other hand, took advantage of nearly every table. 
"I didn't expect a lot of the top colleges to come," junior Sid Nagarajan said. Nagarajan enjoyed the variety of universities that came out and spoke to many that he thought were interesting. In the future, he would like to see more engineering-based colleges. As a senior, he'll have a more narrow list of which tables to visit.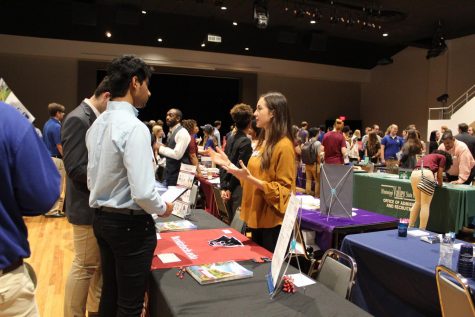 "After doing some research online, I'll probably find things I don't like or that I like more about colleges," he said.
For senior Jane Wang, the experience was less stressful, and she felt more prepared for it. 
"Because we're actually applying [for college] this year, I put more effort into researching where I want to go, so it was less crazy," Wang said. 
Compared to most students, Wang had a reverse experience from her junior and senior year. 
"As a junior I was attracted to the big-name colleges," she said. "This year I took more time to look at less ideal colleges because I wanted to broaden my perspective and look at more realistic options."
Shelle Bates, one of the school counselors, felt that this year's College View went much smoother than last year. 
"We got a lot of feedback from several college representatives about how organized everything was and how our students were prepared to ask questions," she said. 
Bates strongly believes that College View is a great event, especially since students at many other schools do not have this type of opportunity. 
"You would be surprised how many high school students don't interact with college representatives, especially at this large of a scale," Bates said.
College view allowed students to view colleges, those known and unknown, and get a feel of what they are like. Whether students visited just a few tables or all sixty-one, everyone had the opportunity to explore the possibilities.