'Southern Voices' announces winners of 32nd annual competition
UPDATE: The winners of the writing competition in the "Essays" category have been announced and added to this article.
"Southern Voices," MSMS's literary and art magazine, has announced the winners of its 32nd annual art and writing competition.
The award-winning literary and art magazine is a creative outlet for original pieces of writing and visual arts created solely by MSMS students. It was founded in its inaugural year (1988-89) by MSMS's creative writing teacher, Emma Richardson. It is student-run, and the editors are appointed by Richardson. Every year the student body has the opportunity to submit work that falls into one of eight categories: poetry, essay, short story, photography, painting, drawing or sculpture. 
This year, senior Ryley Fallon is the editor of "Southern Voices." She has been and will continue to be involved in every aspect of the production of this magazine. Her vision for this year's magazine reflects what she saw last year's editors do.
"I was an assistant editor and going through my junior year. I enjoyed seeing the senior editors express themselves creatively but also capture the creative spirit of the current student body. This year I want to do the same," Fallon said.
As for the submissions this year, they exceeded the editors' expectations in number and quality; there was a combined total of over 200 submissions this year. Both Fallon and Richardson regard this year's submission as some of the strongest they've seen. 
"The rest of the editing staff, the other creative writing students and I were amazed at the quality of work that was submitted," Fallon said. "The submissions were a testament to the diversity of students here. What I have enjoyed most about working on the project is getting to read work from such a diverse pool of perspectives."
This sentiment held true for both the art and writing submission. The editors for the visual art component, seniors Alden Wiygul, Linda Arnoldus and Auriel Quiroz, are responsible for the layout and design of the magazine. Wiygul, the Art Editor, felt satisfied with the turnout in art submissions this year.
"I'm really happy this year with the [submissions] we got because it was a lot more than last year, so we are going to be able to showcase the artistic side of the students more," Wiygul said. 
Along with getting published, students are entered into a writing and art competition sponsored by the magazine staff and are judged by writers, artists and scholars outside MSMS. This acts as a tool to solicit additional work from MSMS students. In the past, students have been judged by notable artists and writers such as Pulitzer-Prize-winning novelist Elizabeth Strout and Dr. Jay Parini a well-known poet, biographer, essayist, and novelist. 
This year's juror for the visual art component was Ian Childers. Childers is an Associate Professor of Art in Ceramics at the Mississippi University for Women (MUW). The judge for the short story competition was Mary Miller. She is an author whose work has appeared in "The Paris Review" and "Oxford American," both nationally recognized literary magazines. She also teaches in the MFA Program in Creative Writing at MUW. Emma Johnson Linn judged this year's poetry contest. Linn is a 1998 MSMS alum who served as editor of "Southern Voices." She resides in North Carolina as a STEM Coordinator for more than 130 schools.
The following works were chosen by these judges:
Writing Competition
Poetry
1st place: Raven Day – "Summer Day"
2nd place: Ryley Fallon – "Speech Leapin'" 
3rd place: Abby Strain – "Home(less)"
Honorable Mention: Gracie Rowland – "Washing Machine Heart"
Honorable Mention: Skylar Nichols – "Stitches, Scissors, and Seams"
Honorable Mention: Abby Strain –  "King Street"
Short Story
1st place: Ryley Fallon – "Five Miles 'til Kentucky" 
2nd place: Lily Langstaff – "Cash and Carter" 
3rd place: Luke Bowles – "Chester's Birthday" 
Honorable Mention: Alden Wiygul – "Ride On" 
Honorable Mention: Gracie Rowland – "Blistering, Burning" 
Essays
1st place: Abby Strain – "I Call that Beautiful"
2nd place: Lily Langstaff – "Backyard Bugs"
3rd place: Ryley Fallon – "A Series of Unfortunate Cats"
Honorable Mention: Rachel Zheng – "The Importance of Yan Yu"
Honorable Mention: Gracie Rowland – "Pretty"
Honorable Mention: Neziah Igwebuike – "Angels"
Art Competition
Photography 
1st place: Carter Moore – Film is Forever
2nd place: Michael Lu – Dragonfly
3rd place: Whitley Hester – Seewen Pride Rock
Honorable Mention: Catherine Boltz – Window of Leaves 
Drawing 
1st place: Shelby Tisdale – Layers (Self Portrait)
2nd place: Shelby Tisdale – Rebecca
3rd place: James Harden – Mason
Honorable Mention: Ada Fulgham – Wanderlust 
Painting 
1st place: Ella Lauderdale – Hooper
2nd place: Ellen Overstreet – Lonely Road
3rd place: Katy Chen – Myrtle Beach
Honorable Mention: Gina Nguyen – Autumn Mountains 
Sculpture 
1st place: Camile Newman – Bubbly Bonsai
2nd place: Courtney Sebastian – Earth 2100
3rd place: Michael Begley – Lifsins og Striasinstre 
"Southern Voices" holds a special place in MSMS students' hearts as it serves as evidence of the amount of artistic talent present in a school specializing in math and science. For many students who use artistic endeavors to cope with stress, "Southern Voices" offers a chance to display works that might have not seen the light of day.
Katy Chen came in third place for the painting competition. She has painted for many years and "Southern Voices" was an opportunity to share her creativity with others. Her painting was a recollection of a family vacation to Myrtle Beach.
"We were at Myrtle Beach, and I took a picture of it on my phone and decided to paint it in an art class I was in my sophomore year," Chen said. "I didn't think I would place, let alone win third, but it was really cool because I do actually love my painting. I think it's even more special to know that a little piece of my artistry is at MSMS forever and that I was a part of Southern Voices." 
Creative Writing student Luke Bowles won third place in the short story competition. His story, "Chester's Birthday," highlights the emotions a child routinely exposed to physical abuse. 
"To be published in 'Southern Voices' feels absolutely amazing because I spent a lot of time writing and working hard on my submissions, so I'm very happy that one of them gets to be included," Bowles said. 
For the first time in its 32-year history, "Southern Voices" is being composed during the fall semester, as Richardson is retiring at the end of December, but it will be distributed during mid-May, as usual. Richardson will hand the reins of the magazine over to her son and fellow English teacher, Thomas Richardson. Richardson's impact to MSMS and her students, however, will be remembered. 
"I sincerely thank Mrs. Richardson for dedicating herself to a project that has created a space for so many students to express themselves," Fallon said. "Each edition of Southern Voices is a unique snapshot of MSMS students, forever changing. Mrs. Richardson's support of the project has remained constant."
Along with giving her constant support, Richardson has been able to improve the individual writing skills of her students, especially those in her creative writing classes. Many students walked out of the classes with a newfound love for writing.
"Before this year, I had written very little outside of school, but taking Creative Writing under Mrs. Richardson really allowed me to develop my writing skills," Bowles said.
Junior Skylar Nichols, also a student in Creative Writing, earned an honorable mention in the poetry competition for Southern Voices. Her outlook on the class and writing, in general, shifted throughout the semester thanks to Richardson's guidance.
"I learned to love [writing]," Nichols said. "I'm very grateful to have had Mrs. Richardson as a teacher. She was able to teach me a lot and I loved the environment of the class and everything about her." 
The quality of the writing that appears in "Southern Voices" can be seen in the numerous awards student writers receive in state, regional and national competitions. Richardson believes readers of "Southern Voices" 2020 are in for a treat and will look back with satisfaction and fondness on the 32 years she has worked with MSMS students to produce it.
About the Writer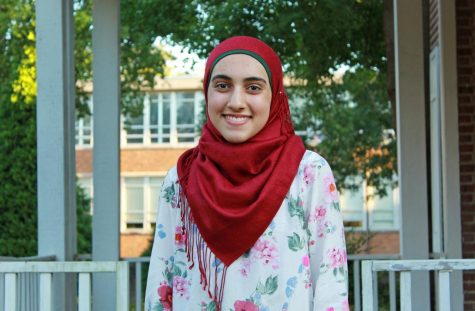 Muneebah Umar, Editor-in-Chief
Muneebah Umar, the Editor-in-Chief of The Vision, lives in Starkville, MS, and is part of the Class of 2021. She previously served as Lead Copy Editor....