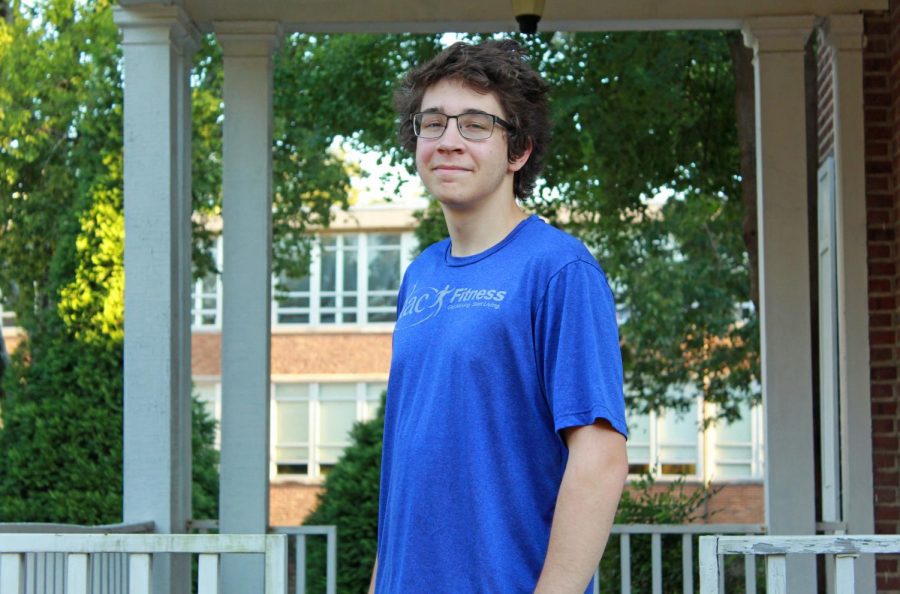 Aiden Leise is a senior hailing from Lake Cormorant, Desoto County. He is the current News Editor for
The Vision,
as well as the most recent journalist you have ever read. Aside from his role as Archduke of News in The Vision Kingdom, he also plays percussion with the MSMS Blue Notes and runs with the Blue Waves Cross-Country team, in addition to other clubs.
Still
doesn't know what he's going to do with his life.
Aiden Leise, News Editor
Apr 30, 2020

MSMS makes plans for move-outs and graduation

(Story)

Apr 16, 2020

How decisions are made during a pandemic

(Story)

Mar 28, 2020

Fallon, Tisdale medal in national Scholastic Art and Writing

(Story)

Mar 13, 2020

Update: MSMS response to COVID-19

(Story)

Mar 06, 2020

MSMS readies for potential spread of COVID-19

(Story/Media)

Feb 20, 2020

'Sonic the Hedgehog' movie (barely) clears Act 1, but is ready for next level

(Story)

Feb 13, 2020

Scholastic Chess Association hosts scholastic chess tournament

(Story)

Feb 13, 2020

Editorial: The dress code is not the issue, the Bible Belt is

(Media)

Feb 06, 2020

MSMS creatives come up big in Scholastic Art & Writing Awards

(Story)

Jan 30, 2020

New adjunct hire Izzy Pellegrine reps MSMS c/o 2008

(Story)

Jan 16, 2020

Movie review: "Jumanji: The Next Level"

(Story)

Dec 14, 2019

Hester wins MSMS Teacher of the Year 2019-20

(Story)

Dec 12, 2019

Student-Faculty games prove MSMS staff is truly #1

(Story)

Dec 12, 2019

Present to Win: Aiden Leise and Dr. Thomas Easterling

(Story)

Dec 05, 2019

Mississippi's first March for Our Lives chapter founded by MSMS students

(Story/Media)

Nov 21, 2019

MSMS rolls out 'I am MSMS' ad campaign

(Story)

Oct 10, 2019

Heintz honored by WCBI

(Story)

Sep 13, 2019

Dixie State to Dixieland: getting to know MSMS's new PR Coordinator

(Story)

Sep 12, 2019

Benge wins Yale Educator Award

(Story)

Sep 05, 2019

MSMS to launch statewide ad campaign

(Story)

Aug 15, 2019

New but familiar faces join '19-'20 faculty & staff

(Story)

Apr 24, 2019
Apr 15, 2019

ΜΑΘ Team 'Falls' to Madison Central at State Convention

(Story)

Mar 25, 2019

Emma Richardson Announces Retirement From MSMS, Teaching

(Story)

Mar 25, 2019
Mar 04, 2019

MSMS Students Compete in MSU Speech Competition

(Story/Media)

Mar 04, 2019

Poem Written After an MSMS School Day

(Story)

Feb 11, 2019

Death on the Mississippi

(Story)

Feb 11, 2019

Gong to Represent MSMS at State Poetry Contest

(Story)

Jan 28, 2019
Jan 21, 2019

Unexpected Turnout at Volleyball Club's First Meeting

(Story)

Nov 26, 2018

Blood Drive Helps MSMS Students Give Back

(Story)

Nov 12, 2018

Leise: School Class Officer Elections

(Story)

Nov 05, 2018

On Tour With the Blue Notes: A Sights and Sounds 2018 Diary

(Story)

Oct 22, 2018

MSMS Blue Waves Advance to State Championships

(Story)

Oct 01, 2018

International Culture Festival Holds Its First Interest Meeting

(Story)

Sep 23, 2018

McConnell Takes Steps to Success with "ED Walks"

(Story)

Aug 27, 2018

Coming to MSMS a No-Brainer for Dr. Wingard

(Story)