Emma Richardson Announces Retirement From MSMS, Teaching
On Monday, March 25, Emma Richardson, a founding member of the MSMS faculty, announced her retirement after 45 years of teaching. Included in an email sent to students, parents and faculty from Executive Director Germain McConnell was the following statement from Richardson:
"As many of you know, I began teaching at MSMS in the fall of 1988 as one of the founding faculty members. When the twelve of us gathered around a table on July 5, 1988, we had no curriculum, no course catalog, no student or faculty handbook, no schedule, no textbooks, no classrooms. Over the course of that summer, and working with gifted administrators and staff, we made something from nothing. 
What a privilege it has been to be a part of this experiment in public education. What a privilege it has been over the years to teach so many talented, hard-working students. What a privilege it has been to learn from so many dedicated and visionary colleagues.
A poet friend of mine writes that retirement is "a large room with not much furniture."  In December, I will step out of Room 107 in Hooper Science Building with happy memories and a sense of deep satisfaction, and step into that new, large room—ready, with joyful expectation, to furnish it.
-Emma"
Richardson will finish her classes for the 2018-2019 school year and continue to teach through the end of December 2019. School administration has already announced its search for a new English faculty member, though at the time of this writing, the MSMS website does not have the job opening listed.
Members of the MSMS community have demonstrated mixed feelings about the announcement, respecting Richardson's decision, but also wondering how the school will be affected by the loss of its most consistent feature.
"How do you fill the shoes of a legend?" said Dawn Barham, who will ascend to the title of current longest serving teacher at MSMS, having taught music since 1993. "I'm of course sad for us, the school, but also happy for her."
MSMS counselor Dr. Heath Stevens harbors similar feelings. "She will be greatly missed. We won't find anyone to replace her, even when the position is filled. I don't know that it's hit me just yet because she was one of my teachers, too."
Richardson's students also expressed uncertainty at her retirement announcement and positive testimony to her teaching skill.
"To be honest, I was really sad; I don't really know how I feel," said Edith Marie Green, one of Richardson's students. "Mrs. Richardson has been teaching for a very long time, but it's still hard to let go of such an excellent teacher."
Powers Lamb, another of Richardson's University English students, feels "really sad" at Richardson's leaving. "Mrs. Richardson was one of the hardest-working teachers I've ever had, and it's hard to see her go."
More details on what Richardson's role at MSMS during the 2019-2020 school year will be are expected to be announced.
Hang on for a minute...we're trying to find some more stories you might like.
About the Contributors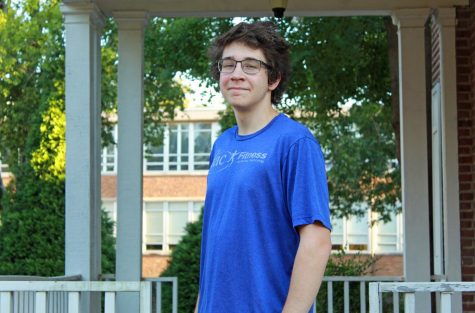 Aiden Leise, News Editor
Aiden Leise is a senior hailing from Lake Cormorant, Desoto County. He is the current News Editor for The Vision, as well as the most recent journalist...