MSMS readies for potential spread of COVID-19
MSMS is beginning to prepare its students and staff for the potential scenario of the disease known as COVID-19 spreading to Mississippi, encouraging measures ranging from hand-washing to self-quarantine. These measures are based on recommendations from the CDC and the Mississippi Department of Education.
COVID-19, the disease caused by the SARS-CoV-2 virus, first appeared in and around the city of Wuhan, China, and has since begun to spread to multiple continents, although WHO has not yet declared the outbreak a pandemic. America's first casualty to the disease came Saturday, 2/29, and schools are beginning to close in affected areas to limit the spread of disease.
On Monday, 3/2, the current MSMS community received multiple emails relating to the school's preparation for possible spread of the disease. The first such email came directly from Dr. Germain McConnell, the school's executive director, and contained a mandatory Microsoft form, requesting that all students and employees detail their travel plans for the upcoming week of Spring Break. Another contained information and advice from MUW and the CDC regarding precautions against the disease, including basics such as hand-washing, avoiding sick people and avoiding touching ones eyes, nose or mouth.
Students were also informed of hall meetings in the dorms to take place Monday and Tuesday night. At these meetings, residential staff emphasized the importance of cleanliness both in preventing the spread of disease and as a matter of dorm living.
On Wednesday, school administrators briefly interrupted English classes to give MSMS students further information about the disease as well as the school's policy moving forward. At the current stage of the disease's spread, students and teachers traveling to areas with community spread of COVID-19 are advised to self-quarantine for up to two weeks; additionally, students showing potential signs of illness are encouraged to report their situation to staff members as quickly as possible to seek medical attention.
While some students' initial response to these measures was negative, with some seeing them as unnecessary or excessive, others, such as senior class president Alisha Burch and junior Michael Lu view the school's precautions as very appropriate.
"At first I thought, 'Maybe this is overreacting,' but now you see how it's growing," said Burch, who also felt that the school's residential nature contributed to the need for proactive measures. "Every day my roommate comes in and gives me an update, and it's like, a hundred more, a hundred more. So I understand why we're doing this." 
"It seems like MSMS is taking COVID-19 pretty seriously," Lu said. "Although there have been many jokes around about COVID-19, it's good to actually take it seriously with the recommendation of a 14-day self-quarantine."
School administrators, who have been working together to figure out how best to implement the recommendations of both the CDC and the Mississippi Department of Education, added that current measures are in the interest of proactivity rather than reactivity and that the disease poses a risk to both students and staff at the school.
"We don't want to overact, and we also don't want to underreact," McConnell said. "But we want people to know this is a serious issue." 
"This is a team effort; we never make decisions isolated," said Leann Alexander, Director of Student Affairs. "In terms of what we decided to do and the recommendations we made for our students, (those) are based on what's coming down from our state and the CDC. At the end of the day it's about the safety of not only (students) but also everyone (students) are around."
The Vision also spoke to Dr. Tina Gibson, an MSMS biology teacher who has worked with the CDC and has contacts within the organization. She emphasized that while panic is not a productive response to the disease, members of the MSMS community should remain conscious of the situation and follow the school's recommendations. She added that, if COVID-19 should spread to the school, higher organizations, like the CDC, may step in and impose additional health guidelines above school administration's authority, but also that such a response would follow highly developed protocol.
At the time of writing, there are currently no identified cases of COVID-19 in the state of Mississippi, although individual cases have appeared in other southern states, such as Tennessee and Florida.
About the Contributor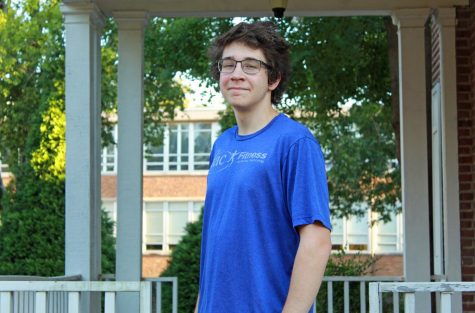 Aiden Leise, News Editor
Aiden Leise is a senior hailing from Lake Cormorant, Desoto County. He is the current News Editor for The Vision, as well as the most recent journalist...