Gong to Represent MSMS at State Poetry Contest
MSMS senior Victoria Gong, who finished third at the North Regional Poetry Out Loud Contest in Oxford on Monday, Feb. 4, will go on to represent the school at the competition's State Finals.
The Poetry Out Loud: National Recitation Contest was created by the National Endowment for the Arts and the Poetry Foundation in 2005 with the goal of encouraging students to learn about poetry through memorization and recitation. Contests are held in a pyramidal structure, beginning in schools across the fifty states, D.C., Puerto Rico and the U.S. Virgin Islands before moving on to regional, then state, then national contests.
Those competing in the Poetry Out Loud Contest recite two selected poems and are judged based on accuracy and interpretation, among other considerations.
After winning at the school level contest sponsored by Dr. Scott Curtis with the selections "Bleeding Heart" by Carmen Gimenez Smith and "Hysteria" by Dionisio D. Martinez, Gong moved on to the regional round of the contest. There are three regional contests in Mississippi– North, Central and South. The top three finishers from each get to perform at the state level.
Despite being relatively new to the competition, Gong was confident in her performance.
"It was a lot less stressful than I thought it would be," Gong said. "Any stress sort of went away once I got up to the mic. The only thing I think I could have done better is that I could have practiced more. [The judges] are really specific about what they're looking for, and I'm still not sure what that is."
At the North Regional Contest, one of the six competitors was a no-show. Gong won third place, though those who accompanied her Monday, Simeon Gates and Dr. Scott Curtis, felt that she could have been justifiably scored higher. 
"I thought Gong should have gotten at least second place," said Gates, a junior who competed in the school round. "But I thought it was a good learning experience, considering [that] I didn't get to go to competition this year."
Curtis repeated this sentiment.
"The competition Monday was very good; I thought Victoria was excellent," Curtis said. "She finished third-party but could've easily been second. The winner of the Northern Region this time was the defending state champion, so it would've been pretty hard to top her, but I think Victoria can do very well at the state competition in Jackson."
However, MSMS has had a state champion of the contest before: Joy Carino in 2015, who had also won the state finals representing Starkville High the year before.
The state finals will be held in Jackson, Miss. on March 5.
Hang on for a minute...we're trying to find some more stories you might like.
About the Contributors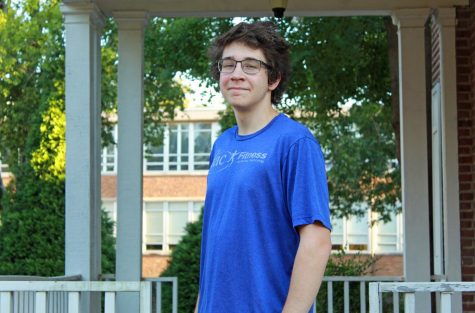 Aiden Leise, News Editor
Aiden Leise is a senior hailing from Lake Cormorant, Desoto County. He is the current News Editor for The Vision, as well as the most recent journalist...