MSMS Students Win Big at Russian Olympiad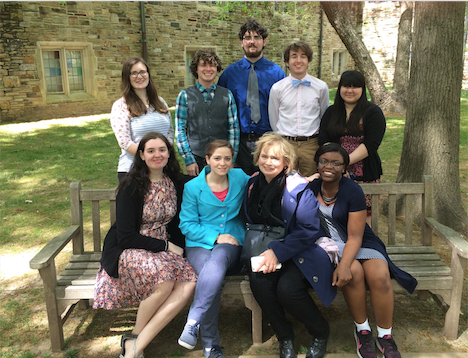 Hang on for a minute...we're trying to find some more stories you might like.
The Mississippi School for Mathematics and Science sent its inaugural delegation to the Olympiad of Spoken Russian at Rhodes College on Thursday, April 6. All eight students from MSMS won medals, including seven golds.  
Russian II students Haley Hsu, Alex Wheeler, and Hillary Gerber won gold, as did Russian I students Matthew Westmoreland, Sam Matrisciano, Elise Cook, and Micah Robinson.  Russian II student Noah McKone won a silver medal.
Hsu was the overall gold medal winner for the competition, and earned the highest score ever recorded for this region's Olympiad.
Hosted at Rhodes College in Memphis, the unique contest is designed to challenge the most difficult aspect of acquiring a new language: speaking.  The contestants were tested on several criteria, including their ability to describe themselves in Russian, discuss aspects of Russian culture and geography, recite Russian poetry and more.
On the Olympiad, Hsu commented, "This is the first time our school has competed, so we didn't know what to expect. We certainly didn't expect everyone to win a gold or silver award."  In addition, Hsu said she "absolutely" didn't expect to win the overall gold.
Hsu also commented on the competition itself, saying, "It was a lot more relaxed than I thought it was going to be. Everyone was very friendly and encouraging."
Matrisciano also won a special award for grace and composure in speaking.  Said Matrisciano, "I didn't expect to win a special award—I figured I would place in the gold category but I didn't expect to win something over everyone in the competition."
"I'm tremendously proud of these students," said Margaret Mary Henry, the MSMS Russian teacher.  "They have worked very hard.  What a joy to see their efforts so richly rewarded."
Ms. Henry also had praise for junior Olga Goupalova, a student originally from St. Petersburg, Russia, who helped coach the MSMS team. "Olga did a superb job and was a big part of our success.  She is an excellent peer tutor who truly reflects the four MSMS ideals of scholarship, community, service and creativity."
Students spent about two weeks of class time in their respective Russian classes preparing for the competition.