Juniors start new year with unorthodox move-in day
After MSMS decided students would not live on campus for the first nine weeks, the incoming juniors were given the option to register on campus and furnish their dorm rooms. Students who did not wish to do so had the option of registering online. With the help of the 2020-2021 Emissaries, the new junior class successfully registered and moved in on Saturday, Aug. 8. 
With masks on and spirits high, the juniors lined up outside of Hogarth to receive wristbands and register for the new school year. After paying fees and taking ID pictures, they were ushered into Hooper to pick up their textbooks for the year. Next, students and their families allowed the Emissaries to help them move items into the residence halls.
Traditionally, MSMS Emissaries spend most of junior move-in day assisting with lifting heavy items and showing their juniors around campus. However, this year, the Emissaries assisted with various tasks across campus, including checking temperatures, taking pictures and directing traffic as well as the usual task of lifting fridges and bean bags. Regardless of the new changes to the move-in day schedule, the Emissaries did their best to make the new juniors feel welcome.
Senior and Emissary Blake Cheater reminisced of his own junior move-in day and expressed his joy at getting to help the new juniors move in.
"I think it was wonderful that we had the opportunity to meet all the juniors, even if we had to stay masked and six feet apart," Cheater said. "I remember moving into MSMS was quite daunting for me, so I hope I was able to ease some of their nerves and help them get to know one another."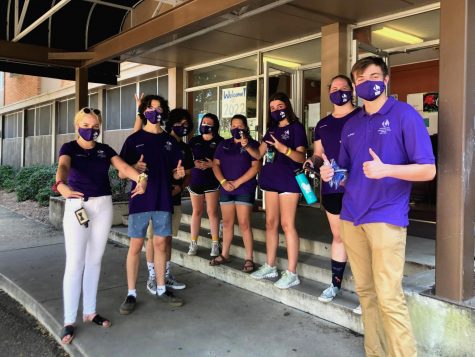 Junior Raeed Kabir thanked the Emissaries for their help with move-in day and hoped he would get the chance to remain on campus full-time soon.
"The entire process was very smooth, and the Emissaries that I met were unbelievably friendly and ready to befriend me," Kabir said. "In my eyes, this was almost a bad thing because it made me want to move in sooner."
Kayla Riley shared Kabir's sentiments and wished she could have remained on campus for longer.
"Move-in day felt bittersweet. The entire MSMS campus radiated warmth and welcoming. The staff, emissaries and PLUS had everything organized. I could tell there was so much thought put into this day. It almost felt like we were actually about to move in," Riley said. "As I left the campus, I couldn't help but wonder what it could have been like without COVID-19."
Juniors will complete new student orientation virtually and will remain off campus for the first nine weeks. In October, the juniors will have the opportunity to remain on campus for half of the second nine weeks, allowing the seniors to stay at MSMS for the remainder of the semester.