Math Superstars inspires new generation of math-lovers
Roughly 300 elementary students from all corners of the state gathered in the Columbus Trotter Convention Center for MSMS's fifth annual Math Superstars event last Tuesday, Oct. 22. This event is intended to help teach kids math in fun and challenging ways. 
The day consisted of three main events: bridge building, individual tests and puzzles. The bridge building was a team activity for all participants. The individual tests and puzzles were designed by MSMS students in the Math Outreach class, taught by mathematics instructor and Outreach Coordinator Lauren Zarandona, specifically for each grade level. Teachers and parents watched their kids from balconies in the room as they engaged in these activities.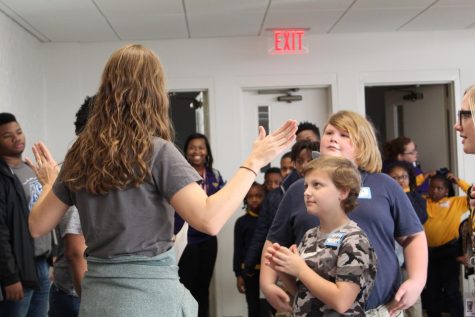 Zarandona created Math Superstars, inspired by a time when she participated in a similar event during her childhood. It served as a way to not only help provoke the interests of elementary students towards math, but also strengthen their math skills at an early age.
"When I was in the 3rd grade, I was part of a program in Florida called Math Superstars and was chosen to compete at a local community college with a group of three of my classmates," she said. "I remember how positive the experience was even though it was over 30 years ago. When starting up Math Outreach, I wanted elementary students in Mississippi to have a similar opportunity."
Leading up to the event, MSMS students in the Math Outreach class met once a week to create math tutorial videos, the individual tests and mind-boggling math games. Zarandona and senior Cameron Thomas, Mu Alpha Theta's President of Outreach, led and coordinated this event. 
"I didn't realize beforehand how many different moving parts there were, but once we got into the planning, it was so much, but it was so rewarding," Thomas said.
"The Math Outreach students enter the course thinking that they have a means for getting regular service hours in a way that inspires them," Zarandona said. "After they write their first few problems and create their first few activities, the students who intended to be inspired become an inspiration, choosing activities and problems that mean something to them. They also inspire their peers to consider service as something that can be more than just a resume builder as they talk excitedly about what they created."
About 90 MSMS students and four teachers volunteered to organize the event Tuesday morning. The students assisted as graders, guides and table leaders. Graders scored the bridge, made by teams of five or less, based on length and durability and the individual math tests based on accuracy. Guides welcomed the elementary school teachers, students and parents into the building and walked kids to tables organized by grade, where table leaders greeted the children and monitored them throughout the event.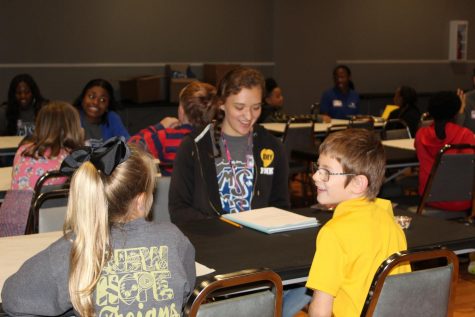 Senior Niyah Troup, one of the Math Outreach students and table leaders, led five third graders at her table.
"They were so great. I love them," she said. "They're so energetic and worked so well together. I appreciated that the kids took the time to actually learn the games and enjoyed it."
Many of the teachers believed that the event opened an opportunity for their students that they didn't know existed. Math Superstars impacts the kids so much that some even say they want to attend MSMS for high school.
"What you end up [with] here are a lot of gifted kids who are challenging each other and learning from each other," said Ivey Ivy, a teacher from Churchill Elementary School. "The outreach here is so important. [It's] planting seeds of maybe coming to MSMS one day for these kids, even in the second grade."
"The exposure is great for our students, and they all seem very excited," said Danielle Black, a teacher at Long Creek Elementary School. 
Both MSMS and elementary students enjoyed the event as they interacted with each other. From their own experiences before coming to Columbus, MSMS students know that there is a lack of opportunities in Mississippi. They would like to show that there are more opportunities for young students who also come from those backgrounds.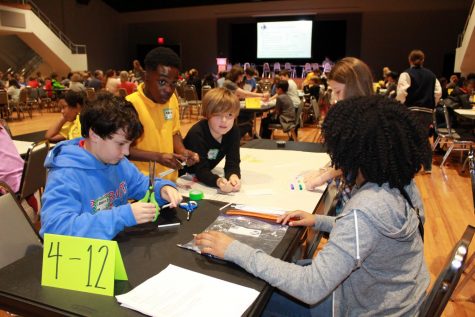 "In a state like Mississippi where education isn't as prominent [as it is] in other states, I feel like this is such a wonderful thing. MSMS has given me so much. Why not give back to the community?" Thomas said. "This isn't even an MSMS recruitment event, but if what we've done is boosting their interest in math, and they believe coming to MSMS will keep feeding their interest, then I think we've accomplished our goal."
"I feel like I need to reach out and touch someone else's life because I didn't really have any people come from other schools and reach out to me when I was younger," Troup said. "I wanted to do that for someone else [and] maybe inspire some math love in others."
Along with Math Superstars, MSMS hosts a variety of other STEM-based outreach events, such as Science Carnival and the MSMS State Math Tournament for middle and high school students. This year's annual Science Carnival will be held Oct. 30, and the Math Tournament will be in February.