Students make their way downtown to view local artists
MSMS students traveled to downtown Columbus en masse for the annual Columbus Art Walk, which showcased pieces by local artists throughout the city. Artists could be found in over 20 stores, including Southern Gathering, the Columbus Arts Council and Park Place Boutique, where MSMS Senior Alden Wigyul shared her knitted and crocheted creations. 
Along with local artists, there were street performers and promotions of local businesses. This event offered a chance for people of all ages to go downtown and view various types of arts and crafts.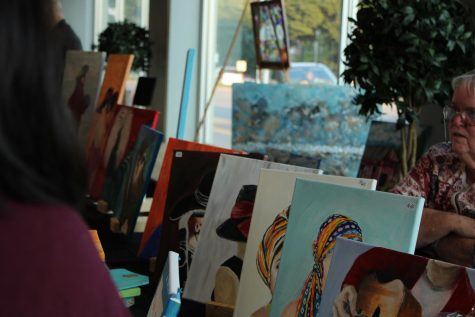 "The art walk was a super cool opportunity. I never get to go to many art-related festivals, so this was a lot of fun," senior Jane Wang said.
Many students were intrigued by the art displayed by local artists. 
While passing through the Downtown Columbus Art Gallery, senior Catherine Min discussed a technique used by one of the artists. 
"I talked to one of the sellers there because I mentioned how one of the art pieces can be made by pulling a painted string through the canvas and it would make a neat design," she said. "The seller said instead of using string, she used chain, so the paint marks are bigger."  
Hidden in Columbus homes are not only visual artists but also musicians. Various groups and individuals performed music on the crowded sidewalks downtown. 
"It was nice to see local Columbus [residents] out and about selling art and performing instrumental pieces in the street," Min said.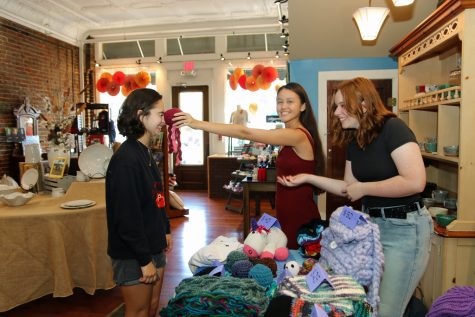 "I loved the music played. There was a couple playing right outside of Coffee House on Fifth that had a very acoustic, down-to-earth vibe that I really enjoyed," Wang said. From soloists to groups of string instruments, the streets resembled the everyday sound of New Orleans.
"I thought the art walk was super rad. There's something special about people displaying what they love doing that's just priceless," junior Abby Strain said. "Columbus is filled with richly interesting people if you look in the right places, and that's the sole reason that our town is beautiful."
Because the art walk cut through study hours, students could only go for a short period of time. 
"My only complaint about the art walk is that we didn't have enough time to go around and enjoy all of the booths and musicians," Wang said. "Besides that, I thought it was a really fun event, and I'd encourage everyone to go out to take a look [when they get the chance]." 
Next, the city of Columbus will be hosting the Roast 'N Boast and Starkville Symphony Orchestra the first week of October.