Whirlwind of a Prom
The Lion Hills Center was "Heaven on Earth" for a night as it was transformed for the 2019 MSMS Prom. Junior class officers, Alisha Burch (President), Gina Nguyen (Vice President), Alicia Argrett (Secretary), Chloe Jackson (Treasurer) and Reggie Zheng (Historian), prepared all school year to ensure that prom would run as planned with the help of the junior class sponsors. Though there were severe thunderstorms and tornado watches, Mother Nature could not stop MSMS students from making the 2019 prom a night to remember.
Class Historian Reggie Zheng said, "Even though the decorations might have not seemed to be the grandest, the class officers, teachers and students alike spent countless hours of hard work to prepare for prom. Every balloon, ribbon and prom favor has a tremendous amount of effort imbued in it. I am very happy with how prom turned out and I wouldn't trade it for anything else."
Students entered at 7 p.m. to picture stations, one manned by a professional photographer and the other by Dr. Philip Benge. The main room was filled with decorations, split into two sections with one side being the dance floor and the other housing tables covered with glitter and snacks. There were giant balloons that said PROM 2019 and fluffy clouds made of cotton in every corner.
Every student was dressed to the nines in sparkling dresses or sharp tuxedos. Some even wore fur coats for an extra flair amidst the heavenly decorations.
"
I was blown away……haha."
— Catherine Li
The dance floor was covered with students all night as the DJ took song requests. Students rocked out to classic songs like "Gangnam Style," "Low" and "Old Town Road." Between dancing, people took quick breaks to the food and drink tables before hurrying back to the dance floor.
"Prom was overall a great experience. Little disappointed that BoyBoy West Coast wasn't put on, but I guess we can settle for some 'Old Town Road,'" stated senior Josh Seid.
All of the dancing was interrupted by the senior walk, an annual MSMS prom tradition where the seniors parade through a tunnel of juniors while solidifying one of their final memories at MSMS. Following senior walk came the crowning of the Prom King, Queen, Prince and Princess. Morgan Emokpae got voted King along with Lori Feng as Queen. Prince and Princess were Cameron Thomas and Andie Nanney respectively. They kicked off the slow dance and soon every MSMS couple joined in.
Prom King Morgan Emokpae said about the dance, "This year's prom was great. I enjoyed dancing and had fun with my friends. 2k19 prom was A-1."
Senior Loveish Sarolia had this to say about his last prom experience: "I think prom overall was pretty fun. I had lots of fun with my friends and my date. It was very bittersweet going through the senior walk because even though I am ready to go to college, this was my last prom ever."
Blaring into the middle of prom was the tornado warning that went off around nine. All of the students evacuated to the basement into the boy's locker room. Though many students feared that they would be stuck in a basement for the duration of prom, the warning did not last long and after about ten minutes everyone returned upstairs and resumed their partying.
"I was ready to have a basement prom, but the tornado stopped… Bummer," junior Linda Arnoldus said.
The tornado's terror did not end there, however. Prom came to an early finish at 10:30 instead of 11.
"I was blown away…haha," stated junior Catherine Li.
With the 2019 prom behind them, juniors are left waiting in anticipation for next year's prom while the seniors lament what they are going to miss.
About the Writer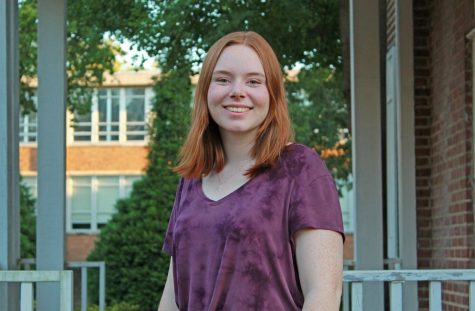 Alden Wiygul, Social Media Editor
Alden Wiygul lives in Columbus, MS. She is the Social Media Editor and hopes to expand The Vision and  reach more people. Most of her time is spent working...