Athlete of the Week: Brent Styles
Meet this week's Athlete of the Week, Brent Styles, a member of not only one, but two of the official MSMS sports teams: soccer and tennis. With this choice of sports, Styles remains busy the entire school year. During first semester he spends his free hours honing his soccer skills as a defender, and during second semester he practices on the tennis courts, particularly getting ready for boys' doubles.
Styles says he has been competing in soccer and tennis for about four years. He began at his home school, Warren Central High School, and has continued to play at MSMS during his junior and senior years. Styles describes the differences between playing sports at MSMS and at his previous school. He states, "At my homeschool, I feel like they took sports a lot more seriously, but I attribute that to the lack of academic rigor there. Playing varsity sports actually counted as 'advanced PE.'"
Styles lists the reasons he decided to participate in soccer and tennis at MSMS. He says, "I was motivated to join soccer because some of my friends played an they said the team needed players. I joined the tennis team because I am in love with the sport." In general, Brent says he enjoys the competitiveness and strategy associated with athletics.  
Besides participating in the official sports that MSMS offers, Styles has enjoyed taking part in other athletic activities. Styles says, "I also play ping-pong, which I've played on and off for a few years.
He also adds, "I tried out pickleball last year which is similar to tennis but is played on a smaller court with square, ping-pong-like paddles."
By competing in MSMS sports teams year-round, Brent has given up a large portion of his free time for practices and games. He says, "Despite the huge time commitment, I really enjoy playing sports here at MSMS, partly because I get to interact with people I normally wouldn't outside of class."
Hang on for a minute...we're trying to find some more stories you might like.
About the Writer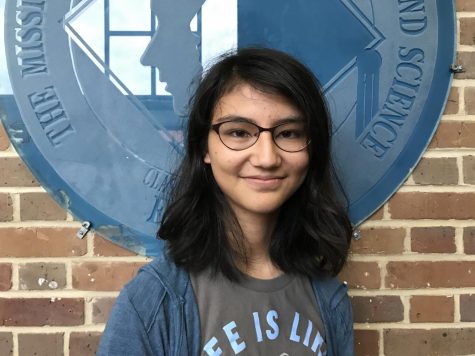 Vivienne Tenev, Graphics Editor, Senior Cartoonist
Hello! I'm Vivienne Tenev, graphics editor and senior cartoonist. I like art (as you've probably inferred from my illustrious titles), taking care...