Student Spotlight: Smith Patel
Smith cites the benefits of challenge as being his favorite part of the MSMS experience.
"MSMS challenges me with calculus. Yeah, calculus. Physics too. The classes just pile up on you, and you have to be strong enough to manage all your time. It's good for the future. MSMS has prepared me a lot for college and I've gotten to learn a lot too."
Before he accepted his challenge with MSMS calculus, Smith was challenged with multiple moves all across America, as well as a challenge with his appendix.
Smith has lived all over the United States. Born in Florida, Smith has moved around to many different locations, including Chicago, New Jersey and Delaware. After a brief six-month stay in Delaware, Smith moved back to Florida, where he spent most of his time before moving to Mississippi.
"I've moved around a bunch of places."
He does not have fond memories of his early childhood experience of having his appendix removed, but he recounted the story with a smile on his face.
"I got my appendix removed. It was after school. I didn't eat anything the whole day. I skipped breakfast. I skipped lunch. And it was like 6 p.m.,, and I was like hungry. So my mom made me like noodles or something. I just started eating them, not paying attention to if I was chewing them or not. Apparently I got noodles stuck in my appendix or something.  It was a whole two week long process."
Smith's move from Eupora High School to MSMS is his most recent relocation. In less than a year, he'll be relocating out of MSMS, hopefully to his dream colleges of Urbana and UT Austin.
"I feel like I might go to Mississippi State if I don't get into those two."
Smith would love to go into the computer science field, possibly as a videogame designer. MSMS has helped Smith pursue his coding passions at Columbus's Exceed Technologies through the Mentorship program sponsored by Dr. Kayla Hester.
Smith's favorite color is blue. He has recently been listening to Post Malone and hip-hop, and his favorite television show is either "Lost" or "Game of Thrones." His favorite video games are Call of Duty and Grand Theft Auto, and his favorite pastime is emphatically basketball. Pizza tops the list of his favorite foods.
"I'd say fast-food wise, the best pizza is Papa John's. But I mostly eat Domino's."
Senior Kevin Liao commented on Smith's ability at Call of Duty. "He's one of the best Call of Duty players I've ever seen."
Smith laughed in response. "Yeah, I played a lot of Call of Duty after I moved to Mississippi because everything was kind of boring."
Smith explains that he came to MSMS because he felt that the school would better satisfy his desire to learn and give him more opportunities than his home school. He is very involved at MSMS as Vice President of Chemistry Club, member of Blue Waves soccer, Forgotten Stories Club and Beta Club. He also mentors at Boys' and Girls' Club. His favorite classes he's taken at MSMS are Sculpture I and Sculpture II.
Smith Patel is a member of the graduating Class of 2018.
Hang on for a minute...we're trying to find some more stories you might like.
About the Contributor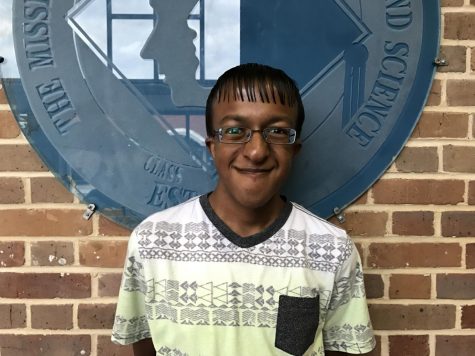 Dev Jaiswal, Copy Editor
Hello everyone! My name is Dev Jaiswal,  and I am from the beautiful town of Louisville. I love anything that has to do with food, languages, words, computers, fantasy books, basketball, and astronomy. Other writing for The Vision, I am an MSMS Senator and a volunteer at the Columbus Boys and Girls' Club. I also do Science Bowl! Looking forward to a fantastic school year!!