National Merit Semifinalist Spotlight: Sarah Swiderski
Peter Nguyen, Assistant Copy Editor/Assistant Entertainment Editor
October 23, 2017
Welcome back to the best weekly series, "The National Merit Semifinalist Spotlight," where we dive into the life of one of our 12 MSMS honorees. This week, our student on display is Sarah Claire Swiderski, affectionately known as "Swiderski."  As some may already know, Swiderski received the honor of being named a National Merit Semifinalist by the College Board. She has come to regard the PSAT through her experience of the test since freshman year. "I actually took the PSAT my freshman and sophomore years because my old school paid for us to take it. I'm basically familiar with generations of memes," she laughed.
Although the PSAT October date has passed, Swiderski wanted to advise future test-takers. "Don't stress too much over your score. Any way you slice it, this is the first of countless opportunities you'll have." Swiderski claims that at the end of the day, "it's all numbers, really lucrative numbers."
On Swiderski's spare time, she does a variety of extracurricular activities. "I play soccer, sing in the Columbus Girl Choir and do really cool things with the drama club," she said. She also enjoys petting animals. Both of her parents are equine veterinarians, which she expresses is "a fun time."
Out of all of Swiderski's classes, AP Calculus II has become her most challenging course. "Working with integrals is low-key like getting slapped in the face," she expressed. On the other hand, Creative Writing has become her favorite. "We get to work with a lot of different writing styles, and I've seen my writing improve exponentially," she stated. Swiderski's favorite part of the course is reading and listening to her classmates' works. "There are some pretty amazing writers in there, and hearing their essays and poetry can completely make my day," she beamed.
Like many students, MSMS has impacted Swiderski significantly. Before coming to MSMS, she struggled to find her niche. "When I first got to MSMS, I was really disciplined and organized but also stressed and confused. MSMS has made me less serious, and it has taught me that there are endless paths to success."
Swiderski attributes her idealistic transformation to her peers, who she has come to know over her time at MSMS. "Being around so many wonderful people have totally helped me to come out of my shell. You know, Lifetime original movie stuff," Swiderski stated. On a low-key note, Swiderski also attributes this transformation to memes.
To wrap up things, once more, Swiderski provided us with a phenomenal dad joke:
A ham sandwich walks into a bar. The bartender says, "Sorry we don't serve food here."
Hang on for a minute...we're trying to find some more stories you might like.
About the Writer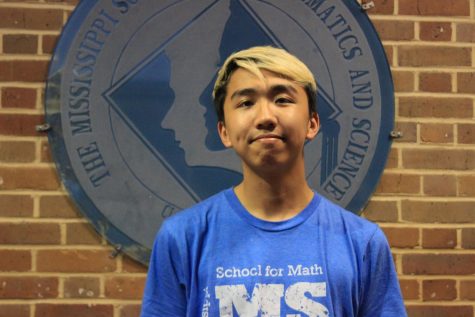 Peter Nguyen, Entertainment Editor
Peter Nguyen is a senior at MSMS, and he is the Entertainment Editor of The Vision. In his spare time, he enjoys testing out his skills in the kitchen,...