Seniors Declare Declamation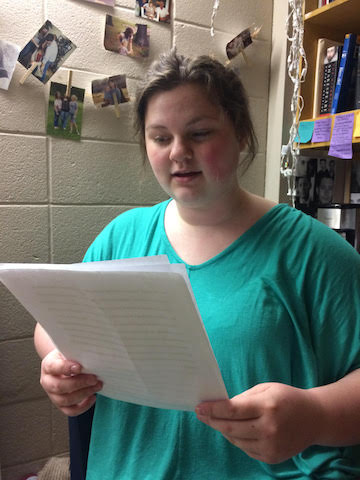 Hang on for a minute...we're trying to find some more stories you might like.
On Fat Tuesday, the Class of 2017 at the Mississippi School for Mathematics and Science (MSMS) were up at 9:30 a.m. for a senior meeting with the senior class officers and the senior class sponsors. This meeting was to get the senior class to vote for a declamation, class song, class motto, class quote, and senior gift.
To liven up the exhausted teenagers that morning, music instructor Mrs. Dawn Barham and class sponsor Dr. Thomas Easterling threw Mardis Gras beads to the seniors in celebration of the event.
After the initial festivities, senior Class President Mayukh Datta introduced possible class song performers, Seniors Noah Hunt (vocalist/guitarist) and Sam Williams (drummer). Hunt summed up how most seniors feel about their experience at MSMS in the song, and he and Williams received over half of the total votes which was required for the song to be declared the class song.
Once the applause for the class song ceased, the seven candidates for the declamation (Virginia Pressly, Kallia Cooper, Braeden Foldenauer, Jenny Nguyen, Reagan Poston, Haley Hsu and Mikel Sandifer) recited their prepared pieces in front of their peers.
The declamation is a speech prepared and recited by a senior at graduation. The speech typically includes advice for fellow peers to use for after high school, inspiration for the future, moments of reminiscence, and congratulations on completing the milestone of getting a high school degree.
This year's chosen declamation speech was written by Reagan Poston. "I'm excited and honored to have been chosen!" Poston said. "I'm also a little nervous but that will pass."
After all of the performances had ended, the class officers sent out an electronic form to all of the seniors to vote for the senior song, declamation,  faculty name readers for graduation, senior motto, senior quote and senior gift.
The results of the vote are as follows:
Declamation: Reagan Poston

Senior Song: Written by Noah Hunt and Sam Williams

Faculty name readers: Dr. Thomas Easterling and Mr. Chuck Yarborough

Senior motto: Our impact

Senior quote: "I may not have gone where I intended to go, but I think I have ended up where I needed to be." -Douglas Adams

Senior gift: Playground equipment