National Merit Spotlight: None Other Than Maria Kaltchenko
"She's absolutely perfect," says her roommate and best friend, Elizabeth Smith. Being nothing short of amazing, Maria Kaltchenko holds the stage for this week's National Merit Spotlight. Even though the spotlight is shining on her this week, Kaltchenko is usually the one shedding light on her peers on a day to day basis.
Kaltchenko, along with 14 other MSMS scholars, earned the honor of being National Merit Semifinalists by impressively exceeding the cut score on the Preliminary Scholastic Aptitude Test, more commonly known as the PSAT.
Due to her experience with standardized testing, she did not worry about hardcore studying for the test. Taking a different approach than others, she primarily focused on small things the night before and the morning of the test, so she could be mentally prepared for it.
"For me, it was just getting a good night's rest and eating a good breakfast in the morning. That's really important," she explained. "A lot of it was just short-term preparation to really make sure that my mind and body were prepared."
Kaltchenko is a very active member in the student body while also being one of the student leaders on campus. She is an Emissary, a tutor, and a part of Science Bowl and math outreach. She also is president of Future Physicians of America and an officer in Mu Alpha Theta.
This past summer, she attended the Telluride Association Summer Program, which is a six-week summer program with highly competitive application process and a very low acceptance rate. She says that it was a great experience and a "big thing" for her.
Outside of the academic day, Kaltchenko has many hobbies and passions that she spends most of her free time pursuing. She is an avid reader, and she enjoys researching things that she is curious about.
"Whenever I find a topic interesting, I read about it, so reading is what kind of got me into the realms that I do," she said. "If I have a question, I try to answer it. I'm a very curious person; I'm always asking 'why,' so I think that is what kind of keeps me going."
"
Maria has a very positive attitude that makes it easy to work with her. She has helped a lot of her peers pass classes and gain confidence with a smile on her face."
— Lauren Zarandona
Her drive and determination are fueled by her curiosity about things that directly impact the world, which developed her love for science and medicine.
She plans to attend medical school to become a practicing physician, but she also wants to do theoretical research. As of right now, she says her main focus will be evolutionary biology.
"I think evolutionary medicine is the key to discover everything about the human body," she explained. "If we consider diseases as evolutionary trade-offs rather than inadequacies of the body, then we can revolutionize medicine."      
She also enjoys exploring and learning new languages. She is fluent in Russian (her first language), English and Spanish, which has been her focus for the past five years. She knows a bit of Ukrainian, and she plans on adding Portuguese to the list.
"I spend everyday reading Spanish and listening to Spanish music," she said. "The languages are a big part of my life that I don't really showcase at MSMS. It is really not something that I do formally, more so my own time."        
Most of all, Kaltchenko loves to spend time with her beloved roommate, Elizabeth Smith. They love working out, relaxing at Starbucks, trying new things and watching YouTube videos together. Smith describes her as "resilient."
"She is so smart and beautiful, and she gives me hope in the world," Smith said. "She always tends to underestimate her abilities."
Kaltchenko's favorite thing about MSMS is the community aspect.
"It's really unique because we live together, learn together and grow together," she explained. "There's not a separation between school and home. I think it really helps us learn better academically and, also, grow as people."       
She encourages her juniors to try new things. In the process, she does not want them to be afraid to ask for help.
"You're not wasting people's time by asking them things and trying to get better at something," she added. "Never think of yourself as a nuisance. I think that it is something that we all kind of struggle with a little bit: feeling like an imposter or feeling adequate. It's all in your head!"
Even though her time at MSMS is slowly coming to an end, the impact she has on this place and the people here is everlasting.
Hang on for a minute...we're trying to find some more stories you might like.
About the Writer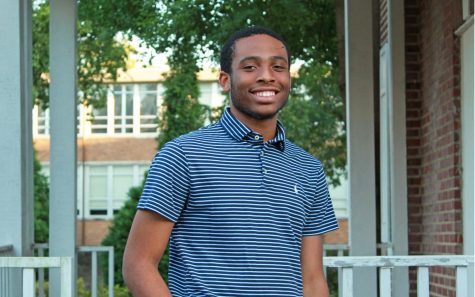 Cameron Thomas, Managing Editor
Cameron Thomas is a senior from the small town of Port Gibson, Mississippi. Serving as this year's Managing Editor and previously a copy editor, he enjoys...