National Merit Spotlight: Victoria Gong
This week's National Merit Spotlight beams on the one and only Victoria Gong. Hailing from Vicksburg, Miss., Gong is one of the fifteen scholars at MSMS who earned the prestigious status of National Merit Semifinalist.
Other than being The Vision's Managing Editor, Gong is an Emissary and in Mu Alpha Theta, mock trial and physics club where she serves as one of the co-presidents. "We basically just try to make physics fun," she explained. "I'm pretty passionate about it because last year it was kind of a flop, so I really want to make it better this year."
When homework or club meetings are not occupying her time, Gong finds joy in napping, going on walks and playing the piano, which she calls her stress reliever. "I wish that I had the free time to relax and read with some tea or write, but I don't get around to it," she says.
In preparation for the PSAT, Gong devotedly used Khan Academy in her free time to do practice tests. "I did reading sections mostly because that was the section that I was not really good in," she explained. "I'm really bad at paying attention to things, so I was really bad at reading sections. Khan Academy really helped."
Because of the previous year's cut off scores, Gong assumed she'd be able to accomplish the National Merit status. "I knew I had to make a good score because I need that money," she added.
Gong, being a well-rounded individual, is proficient at almost everything she does. "I just had a lot of different interests, and I pursued them," she said. "I guess I was active when I was younger, and I also had good parenting. My parents always taught me to learn whenever you can."
Gong is a phenomenal writer and journalist. She earned a national Gold Medal and American Voices Award from the 2018 Scholastic Art and Writing award for her short story, "Shaving Cream." "Shaving Cream" featured in the anthology "Best Teen Writers of 2018." Along with several other MSMS students, Gong won the Ephemera Prize at this year's Eudora Welty Writers' Symposium.
Gong has an arguably detailed layout of her future. "My plans so far are: #1. Get into college…that's all."
Gong says that coming to MSMS has really assisted in developing her social skills. "As a person, MSMS has really helped me sort of 'come out of my shell' because I was pretty nerdy back in the day," she explained. "It's just given me a lot of experiences to interact with more people and sort of form a little family with them."
"Victoria always has a lot of food, and her mom is an amazing cook. Her generosity shines through whenever she lets me eat her food," said senior Helen Peng, her suitemate.
"Victoria is the love of my life, and me and her are going to win best womance again this year," said senior Victoria Waller, her roommate.
In conclusion, Gong said, "Normally, this is where seniors give advice to juniors, but I don't have my life together. Good luck!"
Hang on for a minute...we're trying to find some more stories you might like.
About the Writer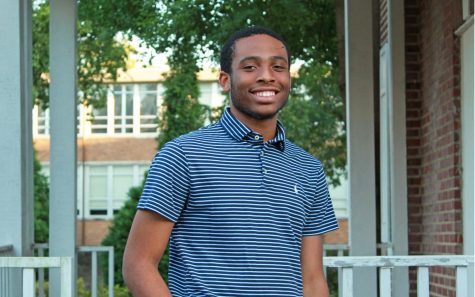 Cameron Thomas, Managing Editor
Cameron Thomas is a senior from the small town of Port Gibson, Mississippi. Serving as this year's Managing Editor and previously a copy editor, he enjoys...