Teacher Spotlight: Mrs. Jameela Williams
Mrs. Jameela Williams is the newest member of the physics faculty at MSMS. After graduating from MSMS in the Class of 2007, she attended Clark Atlanta University, where she earned both a bachelors and a masters in physics. After this, she attended Delta State University, where she earned a Masters in Secondary Education before returning to MSMS to teach physics.
When reminiscing about her time at MSMS, Williams states that she remembers the strong support system that MSMS provided her the most.
"As a junior, I struggled with homesickness, a family death and a personal health scare, but my MSMS family showed me that they cared about me wholly as an individual and not just as a student in the classroom."
During Williams' time at Clark Atlanta, she "often felt isolated being the only woman majoring in a male dominated field, but my experiences both humbled and toughened me."
Williams states that she not only made great friends at MSMS, but at college as well. "The friends I made in college are like family. We've travelled together, been in each other's weddings, helped raise each other's children and supported one another through every professional success and personal setback," Williams said.
Despite her love for physics, Williams' first love is singing and music. Her favorite class to teach is actually a vocal class that she teaches in her hometown of Greenville, Mississippi during the summer. She has taught this class for the past two years. One day, she hopes to "marry my love for singing with physics."
Senior William Johnson was a member of Williams' Modern Physics course. "I liked how the entire class was not just her lecturing to us. She let us experiment with studying a topic and lecturing to each other. It was an interesting experience getting to be in the teacher's shoes. I think it helped to reinforce my knowledge of the material," Johnson stated.
"Mrs. Williams is one of the funniest teachers that I have ever had. I loved the lab where she helped us connect light bulbs in different combinations of series and parallel circuits," another member of Williams' AP Physics I class, junior Powers Lamb, expressed. 
Williams' advice to all the seniors who are due for graduation is that "it's ok to now know your major or career goals right now, so don't let anyone tell you that you should have it all figured out."
Williams also brought someone else to the MSMS family. She gave birth to her son, Josiah, in the middle of the 2017-2018 school year. Josiah is now "the most precocious and active three months old" that Williams knows.
Williams and Josiah are valuable additions to MSMS and the physics department.
Hang on for a minute...we're trying to find some more stories you might like.
About the Writer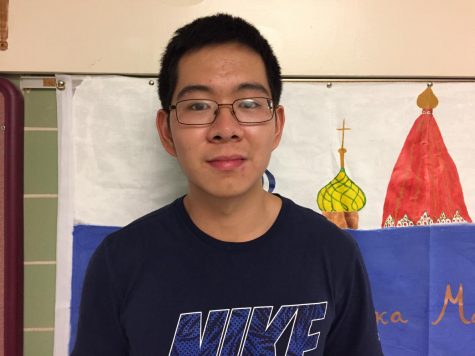 Kevin Liao, Opinion Editor
Hey! I'm Kevin Liao and I'm the Opinion Editor for the 2017-2018 Vision. I have no prior journalism experience but I'm super excited to dip my hand...