Colley: Trump Hammering Down on DHS
There is an ongoing purge of the Department of Homeland Security by President Donald Trump. Trump has had occasional but notable skirmishes with the officials within his administration, periodically ousting them since he took office. This has taken a different tone in the past couple of weeks.
As of last week, the Secretary of Homeland Security, Kirstjen Nielsen, was fired by Trump, along with several other oustings of security officials, including the head of the Secret Service, Randolph D. Alles. Alles has ties to former White House Chief of Staff and Trump's first Secretary of Homeland Security John F. Kelly, who was notable for his early tensions with the President after various disagreements.
This purge's objective appears to be removing dissent and strengthening Trump's policies and efforts to be tougher on border security. All this seems to truly accomplish is sluggishness in his pursuits at best and scapegoating security officials due to his own failures at worst. The Trump Administration has cited seemingly justifiable reasons for the firings of some officials. For instance, Trump and his allies cite Alles's failure to catch a woman carrying a malware-infested device around Trump's Mar-a-Lago property, finding breaches in security. Nielsen and other officials were outright told that they were out of a job because the president had more aggressive policies in mind.
Whether one supports more aggressive or more lax immigration policy and enforcement, one thing is certain: this large-scale purge is going to leave a void in the leadership, creating incompetency in its wake. Considering the things that have been reported to occur in ICE detention centers, I am chilled by what more aggressive policy in Trump's eyes is. He has threatened such radical things such as closing the entire southwestern border, a move that would destroy the US automobile manufacturing industry.
This is all complete with his promises to pardon certain officials who might get in legal trouble for pursuing his policy objectives, a move that both shows a lack of moral judgement and a lack of concern for the law. If one is having to purge out experienced or even semi-experienced officials out of office to find some novices that are willing to implement his policies, you'd think that one would figure that the policy is trash if no one except outsiders are interested.
In conclusion, the Trump Administration is purging the Department of Homeland Security, leaving an incompetent, immoral force in its wake. If this is allowed to continue like it inevitably will, the American people should be concerned about what comes next.
Hang on for a minute...we're trying to find some more stories you might like.
About the Writer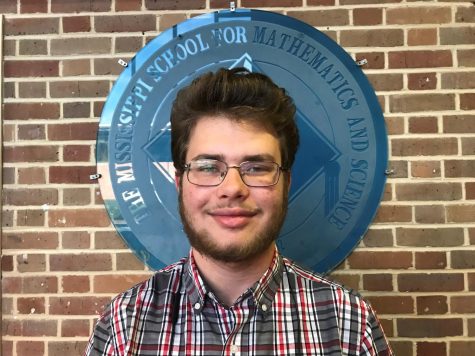 Caleb Colley, Lead Copy Editor
Caleb Colley is a senior from Walls, Mississippi. He formerly went Lake Cormorant High School before coming to MSMS. Caleb can often be found taking refuge...