Michael Jackson: King of Pop
On Aug. 29, Michael Jackson, also known as the "King of Pop," would have celebrated his 60th birthday. Being the world-renowned pop artist that started it all, throughout his career, he transformed the art of music videos and paved the way for modern pop music. His music
and videos, such as "Thriller," fostered racial diversity in MTV's lineup and steered its focus from rock to Pop and R&B, shaping the channel into a form that proved enduring.
His songs have influenced breakthroughs in racial barriers and have used his music as an art form and a promotional tool.  He has the legacy as "The Most-Awarded Artist Of All Time." He won more awards than any other musicians, alive or deceased. He's received 23 Guinness World Records, 40 Billboard Awards, 13 Grammys, and 26 American Music Awards. Eight of the 13 Grammys were won in 1984 – the highest amount ever to be won by one person in a single year. For much of Jackson's career, he had an unparalleled worldwide influence over the younger generation through his musical and humanitarian work.
He influenced a multitude of actors, musicians, and artists, not only in western culture but other cultural artists too. In 1984, Time magazine's pop critic Jay Cocks wrote that "Jackson is the biggest thing since the Beatles. He is the hottest single phenomenon since Elvis Presley. He just may be the most popular black singer ever." Other musicians, like singer-songwriter Amy Winehouse said, "You know how you either grow up in a Michael Jackson house or a Prince house? For me, it was Michael Jackson. I could never decide whether I wanted to be Michael Jackson or marry him." Sonu Nigam, an Indian playback singer also said, "All true artists in the world from all countries and all genres are influenced by Michael Jackson. There were music videos before Michael Jackson, and there were music videos after Michael Jackson. He brought an immense change in the marketing and positioning of the music video."
Since his rise to popularity in the 1970s, his influence on the music industry and the genres of music made people connect with him.  Everyone had enjoyed his music and was influenced by him. Even now his influence is prominent in some people's lives.
"Michael Jackson was an influential person and there will never be another like him.  His sacrifice and love for music still exist through the lives he touched. I remember vividly where I was when his death was announced.  I was in class in graduate school and we were all shocked. The King of Pop lives on forever in our hearts!" Goen Hall Director Latoya Bledsoe said.  
Band Director Ms. Barham stated that Michael Jackson was a game changer like the Beatles and Prince. He changed contemporary music and the landscape; he "kicked the door open" of a new genre and blazed that trail and made it happen.
"Not only did he inspire actors and singers of today, but for a small girl growing up in Mississippi, Michael Jackson was a figure that against all odds from being poor, and hardships his family faced, was able to make something he loved a lifelong joyous career. His perseverance was and still is astounding and is something I will apply to my life for many years to come," MUW undergraduate Ta'Teyunna Taylor said.
"Michael Jackson has influenced my life by creating music that transcends generations. His music is something that at least three generations of my family have bonded over," said MUW undergraduate Mary Carr.
Michael Jackson's influence took root in R&B, pop and soul. He had been influenced by the work of contemporary musicians such as James Brown, Jackie Wilson, Diana Ross, Fred Astaire, Sammy Davis, Jr., Gene Kelly, David Ruffin, The Isley Brothers, the Bee Gees, and the West Side Story dancers. His iconic dance move, "the Moon Walk," was actually said to have been based on the routine of mime artist Marcel Marceau.
Any superstar in the world has had to deal with scandals, and Michael Jackson was no exception. Throughout his career, he was subjected to his fair share of scandals that damaged his reputation, with many accusations involving child molestation (which the FBI cleared his name of this year because they had found no evidence of it), getting his skin bleached, and getting a full face of plastic surgery. People still followed through and loved him. They have idolized him and forgiven him, even when things were rough and the media was bashing and accusing Jackson of all types of things. His fans were loyal then and are still as loyal.
Through his good and bad career choices and his death, Michael Jackson has been a prominent influence on pop culture. People can say that they see no reference to Michael Jackson after his death, but he still holds a prominent role in the music industry and it is undoubtedly amazing to know that he is still part of people's lives even in the 21st century.
Hang on for a minute...we're trying to find some more stories you might like.
About the Writer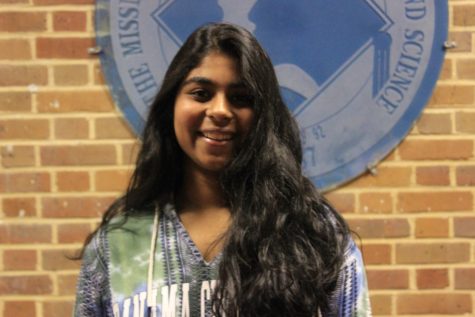 Bryonie Mandal, Social Media Assistant
Bryonie Mandal is from Starkville, MS and is currently a junior here at MSMS. She enjoys playing volleyball, dancing, traveling and eating. She is very...