Book Review: "The Great Gatsby"
"The Great Gatsby" is a timeless, classic, eye-opening, and nostalgic. I think, at some point in our lives, we can all relate to all of the characters involved in the immorality of that drunken night in the apartment in New York with Tom and his mistress. Diving into this scene, the reader can feel the cool, balmy air of the summer night and the smooth jazz music rolling across the streets, into windows, reaching all who were near. I picture myself next to Nick, sitting awkwardly on the couch while peculiar and gaudy occurrences happen all around us. We long to escape; we know that coming is a mistake and now we have the burden of the full knowledge of Tom Buchanan's disloyalty.
We listen to the wild rumours surrounding the gracious host, Mr. Jay Gatsby, and are not sure whether the rumors should be more of a concern than the dancers and champagne at the lavish parties. We say hello, like Nick and Daisy, and make our way through the crowd. Then, at the end of the night, we cram into our cars and curl into our beds like none of it ever happened.
However, we so often forget. We forget Daisy's daughter, we ignore "this fifth guest's shrill metallic urgency," and we forget the lies of the rich and famous. Maybe we turn our cheek and pretend to forget; this is no persistent matter to us. "The Great Gatsby" illustrates our deepest issues as a society; issues that will continue to plague us through our entire existence. Humans are ignorant; we are also pathological liars. This is demonstrated through Nick's dedication to the illusive Jordan Baker and Tom's entire character, as well as the characters he is associated with.
Fitzgerald artfully represents the assets and horrors of being a human. He shows us the power we have; enough to take life away and create life. He makes us feel as though we are all under the watchful eye of Dr. T. J. Eckleburg, like each of our moves is being precisely observed from some divine being. This feeling permeates through everyday life and becomes a norm until one day, we are sitting and reminiscing over the parties and the drunken nights spent in a stranger's apartment until we can bear it no longer. Then we sleep, we go out, we forget again.
"So we beat on, boats against the current, borne back ceaselessly into the past." – F. Scott Fitzgerald
Hang on for a minute...we're trying to find some more stories you might like.
About the Writer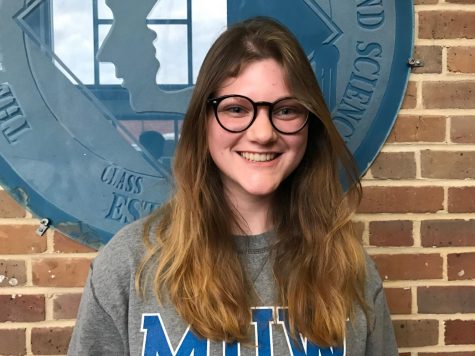 Elizabeth Smith, Staff Writer
Hello! My name is Elizabeth Smith and I am in the MSMS graduating class of 2019. I love to read, promote self health and environmental protection, and...