How do MSMS students spend their summers?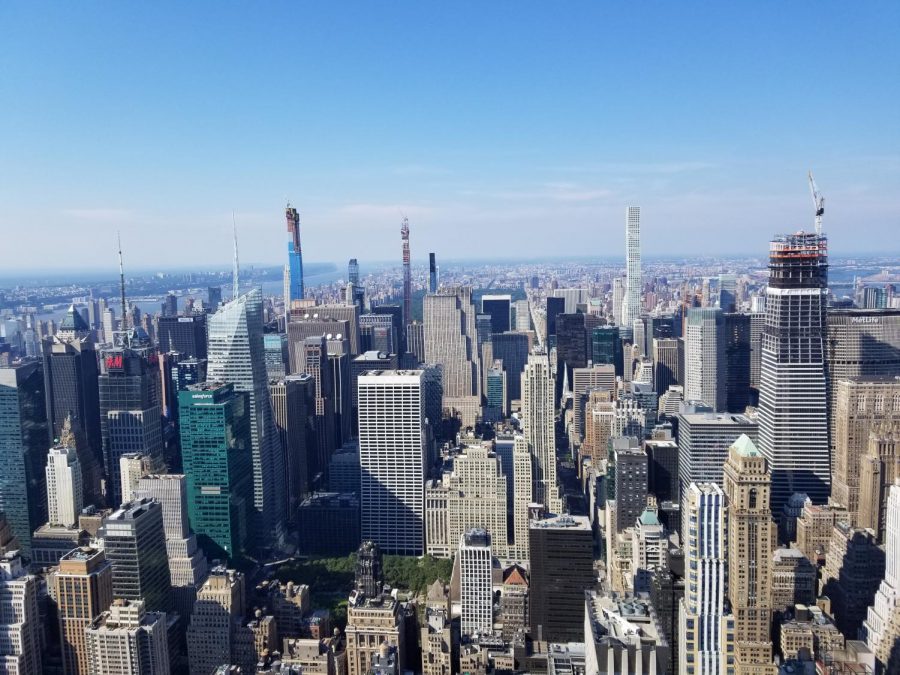 In May, students spend every waking hour hunched over chemistry books, laptops and math reviews, but on the other side of that hurdle are two months of summer break. Many students look forward to getting eight hours of sleep, eating homemade food and spending quality time with friends and family. Others have been planning for summer programs, weeks-long traveling and community service projects.  Below is a list of a few ways students kept busy this summer.
Academic Programs
1. Women's Technology Program (Massachusetts Institute of Technology)
"I flew to MIT and studied computer science, electrical engineering, and math. In this picture, my partner and I each built a solar cell made out of titanium oxide, raspberry dye and glass. We tested the current, voltage, and resistance of the cells when light is shined upon it in various orientations and connections in order to draw conclusions on its efficiency. Here we have been caught in our 'aha' moment." – Rachel Zheng, senior
2. Institute Center for Nanotoxicity (Jackson State University)
"During the summer, I had the honor to participate in the Institute Center for Nanotoxicity, a month-long camp put on every year by JSU. I was one of 30 JROTC cadets from Jackson public schools that attended. During the four weeks, we went on field trips, one of which was to Southern Mississippi University Polymer Science Building. The month consisted of a challenge each week that a team would win; chemistry week, biology week, technology/robotics week, and food science week. My team won all four weeks and  best overall team under my leadership." – Madison Huddleston, junior
3. Mississippi Outreach to Scholastic Talent (University of Mississippi)
"I went to the MOST Conference at Ole Miss. MOST is a leadership conference for rising seniors that helps students figure out if they want to attend Ole Miss. We gain a mentor who sticks with us after we leave the conference. At the end of the conference, our mentors took their time out to make sure we would all stay in contact and that we knew they would always be available for help our senior year. This was my first time staying on a college campus outside of MSMS, so it was a learning experience and I really enjoyed it." – Raven Day, senior
4. Summer Academy for Math and Science (Carnegie Mellon University)
"This summer, I had the opportunity to spend my summer at a worthwhile pre-college program. I attended a Summer Academy for Math and Science at Carnegie Mellon University in Pittsburgh, Pennsylvania for 6 weeks! From being exposed to the world of physics to engineering a full-fledge pinball machine to living a real-life city girl summer, it was definitely the one of the highlights of my summer! I had a phenomenal time and would highly recommend this program to anyone in the market for a transformative summer!"
Travel
1. South Korea and Japan
"This summer, my parents let me take a 14-hour flight to South Korea alone, and I stayed there for two months. I was able to meet family members, and I was finally considered "mature enough" to travel all around Seoul alone. I was able to do a wide variety activities like getting my fortune told, going to theme parks for three days in a row, and going to a K-pop concert and a couple musicals. My aunt and I also traveled to Japan for a week and did cool activities like visiting a hedgehog cafe, going to TokyoDisney, and visiting multiple museums." – Clare Seo, junior
2. New York, Colorado, and Washington
"This picture is from Niagara Falls. We spent two days there and it was so wonderful! Everywhere you went there was a beautiful view of the falls  we hiked right under the falls and I decided to feel the weight of 750,000 gallons of water per minute without a poncho. I looked like I had just got out of the bathtub.
I took a family trip to Colorado where we spent a lot of time hiking through the mountains! Everywhere you hiked there was something beautiful to look at.
I also traveled to Seattle, Washington (my hometown) and spent a couple days in the heart of the city watching Mariners games and visiting the spots I adored as a child. This picture is from a beautiful place just outside Seattle on the Puget Sound that I used to visit a lot as a child." – JoJo Kaler, senior
3. Missouri
"I went to Branson, Missouri over the summer. It was about a 6-7 hour drive but well worth it! We went zip-lining (the highlight of the trip), to a theme park (Silver Dollar City), and watched an AMAZING magic illusionist show! Overall, I loved this trip." – Shanay Desai, junior
4. New York, Scotland, and Ireland
"This summer I traveled to New York City; Edinburgh, Scotland; and Ireland. I stayed in NYC for a few days and did the typical tourist stuff– Ellis Island, Times Square, Liberty Island, and Empire State. Also saw Rock of Ages off Broadway.
Then, I traveled to Edinburgh, Scotland, where I saw where my maternal side of my family is from. I visited Edinburgh Castle and the National Museum of Scotland.
Finally, I visited Ireland. I stayed in Dublin and did several things, such as the Guinness Storehouse and St. Patrick's Cathedral. My family then rented a car and drove west to Abbeydorney, County Kerry, to visit the farmhouse in which my Great Grandfather grew up before emigrating to Canada as an indentured servant. Finally, we made a trip to Wicklow National Park in County Wicklow, which is known for its abbey." – Wyatt Shanahan, junior
Competitions
1. Distinguished Young Women of Mississippi
"I competed in the Distinguish Young Women State program with Gina Nguyen. It was one of the most amazing and exciting programs I have ever been in. I made new friends from all over Mississippi, and I even won the Spirit Award for Distinguish Young Women." – Samaria Swims, senior
2. National History Day
"I went to nationals with a group of MSMS students for National History Day. It was at the University of Maryland and we also got to go to Washington D.C. for a few days. We did a lot of different things such as the Holocaust Museum, the Air and Space Museum, and the National Zoo." – Catherine Boltz, senior
Volunteer
1. Family Legacy
"I went to Lusaka, Zambia this summer for philanthropy work. I worked with Family Legacy, an organization dedicated to helping Zambian children receive the education, food, and medical care (HIV positivity is very common) that they lack. Also, Family Legacy's summer program helps workers identify children in situations of abuse or negligence so that they can be placed in safer home situations. If anyone is willing to sponsor a child, the link is here. " – Gracie Rowland, junior
2. Eagle Scout Project
"I built some benches for a local park in my city for my Eagle Scout project. I had recruited some of my fellow scouts to help with this endeavor, and we were able to get it done in two days. The benches turned out great, and the city of Oxford gladly took them and mentioned they would be planted in the park within the next two weeks. I built five benches total." – Jamie Torrent, senior