MSMS Students Compete in the National History Day State Competition
On March 23, 14 MSMS students competed in the National History Day state competition at the University of Southern Mississippi, with all 14 placing top three in their category.
The annual National History Day is a competition for high school students where they design and organize a project on a historical topic relating to the annual theme. Their work is presented as either a website, a research paper, performance, an exhibit, or a documentary. The category is separated into seniors and juniors, and individual or group work.
MSMS history instructor Ms. Julie Heintz travelled with the 14 students to Hattiesburg to present their projects. This year's theme for National History Day was "Triumph and Tragedy," and the students created a project in their respective category relating to this theme.
Junior Dennis Lee competed and won first place in the Senior Research Paper category. In addition, he was also awarded the Archival Research Award.
"It [The Senior Research Paper] requires students from 9th to 12th grade to write a historical research paper based on the annual theme. The paper must range from 1500 to 2500 words and also needs to include an annotated bibliography on the primary and secondary sources collected for the research," Dennis says.
This is Lee's second year participating in National History Day. His research paper was about the 1938 Yellow River Flood.
"During the Second Sino Japanese War, the Nationalist government of China breached the Yellow River dike to halt the advancement of the Japanese offensive. Although it caused huge casualty on Chinese side, it successfully delayed the Japanese capture of the relocated capital of China," he shared.
"I was a little bit nervous because MSMS is a beast and I didn't have as much time to work on my paper as I did last year. Nonetheless, I was still confident about the quality of my work so I didn't worry too much about the state competition," he shares It was overall a wonderful experience and the judes game me awesome feedbacks that I will use to revise my paper for the national competition in June."
In addition, Junior Emily Penton placed second in the same category. Although this is her first year competing, she plans to compete again during her senior year.
"My topic was about mental asylums during the 19th and 20th centuries, which were pivotal in the history of mental institutions. I discussed the reforms for patient care and the state of the institutions," Penton said.
"With this paper I won 2nd place, but I was nervous during the ceremony because I wasn't sure that I would have placed. I really enjoyed the competition and can't wait to do it again next year."
Seniors Likhitha Polepalli, River Gordon and Juniors Catherine and Caroline Boltz participated in the Senior Group Documentary, winning first in the category along with the Women in History Award.
"The category I participated in was group documentary. I did this for the second year, but this year I competed with Catherine Boltz, Caroline Boltz, and River Gordon. Our topic was Amrita Sher-Gil who was a female artist know to modernize India's art," Polepalli said.
"I was nervous just because we put our best effort out and we wanted it to pay off. Also creating a documentary is a lot of work, so I was nervous that it might not have turned out well. It was an amazing experience."
The whole process was long. Polepali and her group started off by selecting a topic and then doing research. After research, a script was created and recorded. Polepali and her group then made a video using the recordings and pictures.
"I was super nervous because it was my last year of doing NHD. It was very stressful putting everything together but it was worth it." Gordon says.
This was both Gordon and Polepalli's second year competing and the Boltz's first year competing.
First and second place winners for this year's National History Day will be advancing to the Nationals in June at Washington, DC. Third place winners serve as alternates if first and second place cannot compete.
Overall, MSMS received the most awards in the Senior Division Competition.
Hang on for a minute...we're trying to find some more stories you might like.
About the Writer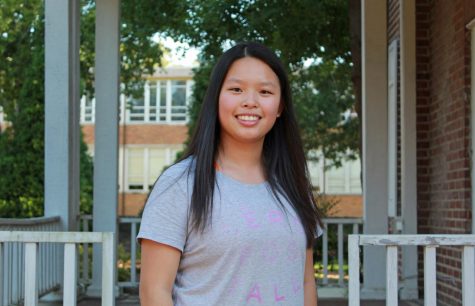 Hua Chen, Staff Writer
Hua Chen, a staff writer for The Vision, is from Lucedale, Mississippi. Currently a senior at MSMS, she spends her time stalking the media, practicing...