Sarah Perry: Emissary Traveling the World
Sarah Perry is one of the many interesting seniors at The Mississippi School for Mathematics and Science. Traveling all throughout her life, she has fallen in love with far off places and experiences.
She was born in Washington state before she moved to Mississippi when she was twelve. At first, she had a hard time adjusting because she did not like Mississippi much, and it was a huge culture shock. She then shadowed her last school, Heritage Academy in Columbus, and ended up getting enrolled as they were the only school that let her skip a grade.
"
Keep your eyes on the prize. It might not seem like you'll get through the next test, but in the end what you're working towards is worth it."
— Sarah Perry
Perry has had a lot of different experiences because she got to skip a grade. Last year her roommates were seniors and this year most of the girls who have her as their emissary are older than her. It can feel awkward to her if she thinks about it, but most of the time she does not even notice the gap. Despite her age, she has proven her place among the seniors with her passion towards school and dedicated work ethic.
"Sarah Perry is a great cook, great emissary, and great friend," says Sarah's junior Linda Arnoldus.
Before coming here, Perry was down on Mississippi until she found out about MSMS through the summer camp. The emissaries from camp and the ones that gave tours around campus inspired her to become one herself. She discovered that it was a good way to give back by helping people come to the school and discover their excellence.
Another junior under Perry, Bertha Mireles, states, "Sarah has high aspirations and motivates me to have high aspirations as well. It makes me believe I can achieve all those things too."
She likes to study mostly in her room, and since the transition from her old school, her study habits have changed a lot.
Perry says, "I still unfortunately procrastinate some, but coming to MSMS has made me relearn how to study in a better way. Before I did not have to study for math or science."
Her favorite class last year was University History. She loved the project that they do every year when the class writes about a soldier from their town who died overseas during WWII. This project brought her closer to Columbus and made her appreciate more of the history. The entire experience inspired her to mentor at the Billups-Garth Archives in the Columbus Public Library.
Perry is a member of the National History Day Club, Astronomy Club, Film Club, GSA, Yearbook, Plant Club, Fashion Board, and Senate. Her favorite club is the National History Day Club because she is currently serving as secretary, and last year she won first place in the competition. They got to take a trip to DC where she had fun with all her MSMS friends.
She plans to go to college at the American University of Paris and major in history with a minor in French. Even though she later plans to become a history professor, in 10 years the only thing she can imagine herself doing is traveling. Visiting everywhere is her eventual plan, but in particular she wants to go to New Zealand.
Perry gives this advice to all the juniors: "Keep your eyes on the prize. It might not seem like you'll get through the next test, but in the end what you're working towards is worth it."
Hang on for a minute...we're trying to find some more stories you might like.
About the Writer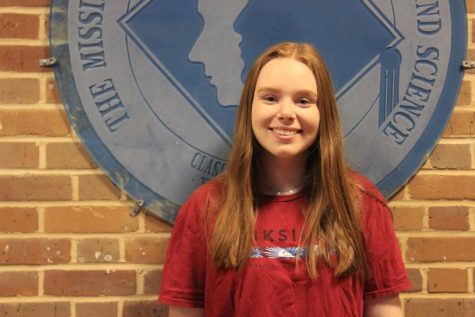 Alden Wiygul, Social Media Editor
Alden Wiygul lives in Columbus, MS. She is the Social Media Editor and hopes to expand The Vision and  reach more people. Most of her time is spent working...