Super-Sweet Senior Sara Scott Shines at MSMS
Sara Scott is one of the many fascinating seniors here at the Mississippi School for Mathematics and Science (MSMS).  Hailing from Raleigh High School, a school in a very small town within Smith County, Scott has loved living in her new school and new town, Columbus. In fact, she prefers living in Columbus. Her old town did not have interesting shops or restaurants such as the Three Sisters Pie Company, and she loves going to Coffee House on 5th for Boba tea.
Scott decided to apply for MSMS because her town did not have much to do; her school was not challenging her, and her sister—who went to school at MSMS a few years ago—would come home raving about how fun it was at the school. At her previous school, a lot of the students rarely graduated, despite the fact that the classes at MSMS are much harder than the classes there.
"School is actually fun, and it is so nice to be surrounded by people who love education and get involved in the community," Scott says about MSMS.
The exciting energy at MSMS inspires her in ways that she did not get to experience at her old school.
Getting to be a part of all of the clubs and classes at MSMS also excites her. Scott is a member of the Chess Club, Catholic Club, Asian Student Association, and Future Business Leaders of America. Chess club is her favorite club by far, despite that she had never played before her junior year at MSMS. She never thought she could be involved in such a club until she was introduced to it by Dr. Curtis and alumnus Gary Nguyen. Astronomy is her favorite class as she has always been fascinated by constellations and the solar system.
Despite her busy schedule and the pressure to apply for college, she says that senior year has been a lot less stressful for her. She may have to go off to college in 10 months, but right now she is enjoying making the best of her easy schedule.
As of now, Scott has determined that she wants to go to an in-state school, preferably Mississippi State University, to study surgery and nursing. In her free time, she reads about medicine and participates in a mentorship at the Baptist Memorial Hospital in Columbus or even at Coffeehouse on 5th for boba tea.
When asked about advice for the current juniors who are now in the same place she used to be, Scott says, "Just try your best and be proud of the work you have done."
Hang on for a minute...we're trying to find some more stories you might like.
About the Writer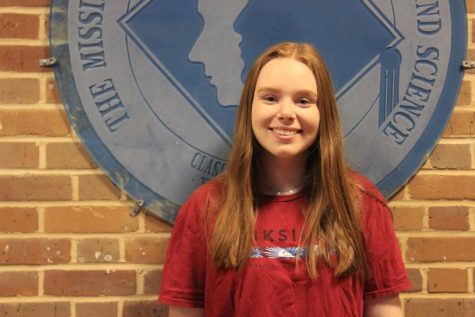 Alden Wiygul, Staff Photographer
Alden Wiygul lives here in Columbus, MS. She is a part of the photography team because she has a passion for art. Besides photography, she likes to draw,...