Students address concerns with Mississippi K-12 education
A look at Mississippi's education through the eyes of MSMS students
With it being an election year, people are discussing policy and social issues now more than ever. Whether about universal health care, gun control or immigration policies, people tend to be the most passionate about issues that affect them directly. This is why the public K-12 education system has been the talk of recent months at the Mississippi School for Mathematics and Science (MSMS) among teachers, administrators and, especially, students.
MSMS has students from almost all areas of the state of Mississippi representing 53 out of the total 82 counties, which is about 65 percent. MSMS is a residential school for academically gifted and talented students in the state of Mississippi. It is ranked as the sixth best public high school in the nation according to Niche, while the faculty has been ranked number one in the nation for the past three years.
"MSMS has always tried to determine what is best for the state of Mississippi and the students over the years we've been in existence," said Kelly Brown, Director of Academic Affairs.
However, MSMS is not consistent with conventional academic trends in Mississippi. According to the U.S. News and the World Population Review, Mississippi is ranked 45th in public education and 49th in college readiness. 
This is not anything new, for most Southern states always take up the bottom 15 slots when it comes to education and economy. Southern states are usually ranked highly for obesity and poverty rates.
Most Mississippi schools have a "state test culture," which is the act of structuring an entire curriculum around a mandated end-of-course assessment. Being that state test scores determine a school's letter grade, lower performing schools tend to use the state test culture as a means to improve test scores. 
Schools have to receive a certain number of points to receive certain letter grades. Schools get points for students improving from the previous school year and proficient and advanced level scores. This is why most public schools in Mississippi cater more to students with lower scores because it is more probable for them to improve test scores over someone who already had advanced or proficient.
Many MSMS students have fallen victim to state test culture at their old schools.
"I feel like at my old school– and I think most schools can relate to this– didn't really go deep into the proof-based math and more content beyond surface level," said junior Luke Bowles. "It was like 'learn the formula for the test,' so when I came here to the more in-depth math, it was a huge adjustment learning more than just formulas and going deeper than surface level."
In a simple random sample (SRS) of 21 MSMS students, the average ACT score entering MSMS was a 27. For the students who'd taken the test again (mostly seniors), the average current score 30, which meant that the sampled group increased by three points on average. 
On a non-anonymous survey, they were asked to rate their preparedness for MSMS on a scale from zero to four (zero being not prepared at all and four being very prepared). The overall average was a 2.7, which meant that the sampled students felt somewhat prepared on average.
The survey required the sampled students to tell the region of Mississippi in which they reside, so when observing the data along with students' home region, there was a noticeable trend. Students from the Delta region had an average 24 on the ACT while everyone else combined had an average 29. However, students from the Delta region improved their score by 3.7 points on average, while everyone else only increased 1.25 on average. Their average for preparedness was 2.2 while everyone else's was 3.1.
According to the data, it can be concluded MSMS does have a positive effect on students, but it affects every student in a different way.
Mathematics instructor Lauren Zarandona taught Algebra II at MSMS for several years. She noticed several trends, one being that more than half of her classes were always composed of African American students from the Delta region.
"I don't think in any way that students who take Algebra II at MSMS are any less than students who come from schools who provide them with resources they need to pursue more advanced education," Zarandona said. "In fact, every year there are always quite a few Algebra II students who come out to be leaders in the school. This goes to show that students all over the state, when provided with good teaching and the proper resources, can compare to students from states like California and Massachusetts."
Though Zarandona does not teach Algebra II anymore, she notices that the trend is still a problem in this current school year.
Senior Class President Alisha Burch comes from Amanda Elzy High School in Greenwood, Miss., more commonly known as the "Cotton Capital of the Delta." Burch initially came to MSMS with the goal of making all B's because that seemed to have a sense of realism about her, but she "exceeded [her] expectations."
"I knew that I didn't have as much knowledge as the students who came from schools like Starkville [High] and Oxford [High], so that made me realize that I basically had to work four times as hard as them to get half as much," Burch said. "Though it was discouraging at the time, I learned that was really the mindset that has brought about almost all of my success at MSMS."
MSMS introduced Burch to all types of diversity that she did not have access to before hand.
"There was only one white person at my school, so coming to such a diverse environment was a culture shock for me," she said. "Most of the white people went to private schools, and the ones who couldn't afford it went to Greenwood High."
This is not uncommon in the Mississippi Delta. For example, in Cleveland, Miss., a town historically marked by de facto segregation still in recent years, just recently integrated Cleveland High School and East Side High School, where in the 2016-17 school year 359 out of 360 students were black according to CNN, into Cleveland Central High. A lot of students who once went to Cleveland High moved to private schools because of the consolidation of schools.
Burch says that she is thankful for all of her memories at Amanda Elzy High, but she "owes all of her recent success to MSMS."
"
…I basically had to work four times as hard as them to get half as much."
— Alisha Burch
"Without MSMS, I honestly couldn't see myself where I am now, which may seem kind of weird because there are people here who have been where I am currently since freshman year," Burch said. "I don't think any of this is necessarily because of capability, more so chance."
She wanted to leave a message to any students who are currently going through Impostor Syndrome and future MSMS students who come from lower performing schools and may feel discouraged:
"Don't let all of those doubts that you have about yourself restrict you from coming to the school. There are always people here who are going through the same things as you and who have already gone through what you're going through, so there will always be someone there to help and talk to you."
For reference, according to Niche, Amanda Elzy High has an overall C- rating, an average ACT of 19 and a two percent AP enrollment. By Mississippi's standards, this is an average school, for most of the statistics match with state averages or the differences aren't significant enough to make note of. 
The one outlier, however, is that the school has a five percent proficiency in math. Burch believes that this low number is reflective of the learning environment.
"Most of our teachers were students from Mississippi Valley State [University]. I guess they really couldn't find enough fully certified and qualified people," Burch explained. "All of the students would skip class and go to the gym. They would often gamble with the teachers. Everything but learning was going on in the school."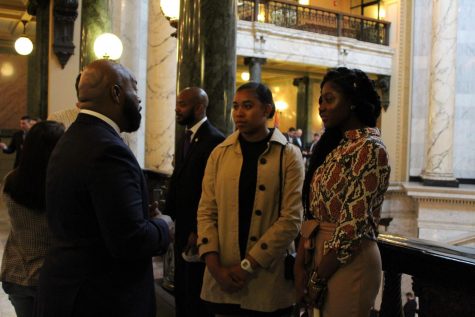 Many other MSMS students share this experience. According to Mississippi Today, there were more than 2,100 teaching vacancies and 2,256 uncertified teachers. Senior Russell Thompson, the son of two teachers, elaborated on this.
"Even my school, which is a pretty decent school by Mississippi's standards, suffered from the problem of the lack of certified teachers in the state," Thompson said. "It really shows the current state of Mississippi education: teachers don't get paid enough yet they have to work too hard."
Thompson comes from Neshoba Central High School in Philadelphia, Miss. Neshoba Central's overall Niche rating is a B with an average ACT of a 23 and AP enrollment at 20 percent. All of these statistics are over the state average.
"I haven't struggled with classes that much here even though I've had my moments, but everyone does," he said. "I think the hardest part about coming here was leaving behind football and power-lifting. It's so hard for me going back to watch senior night knowing that I am not one of the students out there getting recognized."
Thompson was not the only one who felt this way. Basketball Club president and junior Joshua Murphy played basketball at his old school, Picayune Memorial High School in Picayune, Miss., and he found it difficult giving up his passion for MSMS.
"
It's hard to believe that I'll possibly never wear that jersey again."
— Joshua Murphy
"It's hard to believe that I'll possibly never wear that jersey again," Murphy said. "I had so many memories on that court, which made leaving it all behind so hard."
However, with the loss of basketball came the gain of other things, for Murphy has "accepted the MSMS culture of always trying new things." Murphy is now a member of the Blu Knightz step team and the junior co-captain for the combined Allstar step team.
"Before coming here I didn't even know what step was, and a certain senior drew me into, and I've loved it ever since," he said. "MSMS encourages students to 'step' out of their comfort zones and try new things, and that's one of my favorite things about this place, other than the people."
Nevertheless, MSMS still struggles in that department. Niche rated them an A in every category except in sports, where they received a C. 
This was the biggest concern with students from higher performing high schools by Mississippi's standards, while students from lower performing schools were more concerned about the academic aspect of things.
"We're trying to provide this wonderful opportunity for as many students as possible," said Dr. Germain McConnell, Executive Director. "This is why we do outreach like the Traveling STEM Carnival. This is why we do Capitol Day. We need as much support from legislation and from the people as possible, and we need to keep working to put our name out there because high performing students in the state of Mississippi need experiences like this."
As the senior class prepares for graduation and the junior class prepares for senior year, McConnell hopes that MSMS can receive the funding to increase student enrollment.