Dramatic Performance presents a play of bad dates and stolen plates with "Check Please"
Lights, camera, action! Dr. Easterling's dramatic performance students collectively broke a leg at their most recent play, "Check Please," on Wednesday evening. The play showcased both the talent of the students and the creativity of the playwright, Jonathan Rand.
The play follows two unnamed characters as they go on a series of strange dates with a kleptomaniac, a 90-year-old woman, an imaginary friend and more. Even with the pitfalls, the two eventually find each other in the end, closing the play on a happy note.
Junior Elisabeth Seage felt that the play went smoothly and that its success was due to the teamwork of the cast. Seage played a perky kleptomaniac, whose compelling desire for theft led to the downfall of her date.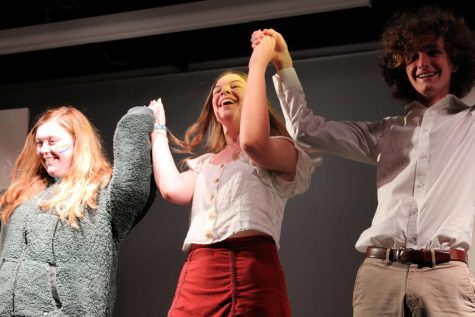 "It was really fun. The cast all worked together, and we had a great time producing it," Seage said. "The play wouldn't have gone as well if we didn't have each other to lean on and support each other through it."
Senior Davan Reece, a lead in the play, was happy with the effort the cast put forward. Although it is Reece's first year in dramatic performance, he has been participating in plays since he was 9 years old. After taking over three years off the stage, Reece returned with a lead role.
"I am so incredibly proud of our amazing cast," Reece said. "They really did a great job putting everything together, and none of this would be possible without the awesome directing of Garrett Wells and Dr. Easterling."
Junior Gracie Rowland was among the many spectators that came to watch their friends and fellow classmates perform on Wednesday. She enjoyed the play and is excited for the many more to come.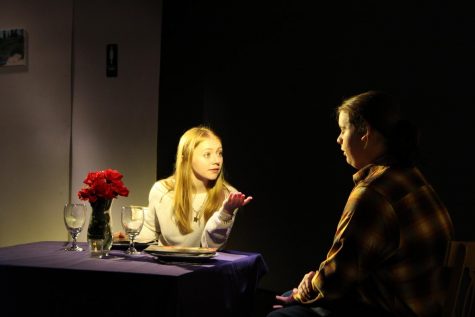 "The play was wonderful. I laughed super hard, and my favorite character was Elisabeth Seage's," Rowland said. "Everyone did so well. I'm glad I went, and I'm so proud of everyone that participated and all the hard work they put into the play."
Likewise, junior Colin Gordy thought that the actors showcased their talent well.
"I thought it was really good," Gordy said. "They all did a good job of unleashing their inner Karen and Margaret."
The dramatic performance class will now be taking a break to work on a larger play. They will return to the stage in December.