Senate welcomes new faces, hosts first meeting
Juniors and seniors alike stood in crowded lobbies of their respective floors and delivered speeches, vying for senator positions in the Student Government Association (SGA) on Thursday, Aug. 29.
A total of twelve senators from Frazer Hall and fourteen from Goen Hall were elected. The difference is due to Goen using one extra floor–which would give them four more senators–yet having two vacant senior slots.
Although only two juniors and two seniors can become a senator on each floor, many other floors had well above that number run for the position. In Frazer Hall's second floor, eight juniors ran for the position, prompting candidates to attempt to captivate the audience by dressing up in costumes or by giving humorous speeches about Soundcloud rapping.
Some candidates relied on jokes and puns in their speeches. Cameron Wright, who ran on the third floor against his roommate Jack Standard, ended his speech in such a fashion.
"Don't vote for the Standard guy, vote for the Wright man," Wright said, prompting laughter from the audience.
The winners were selected through a ranked choice voting system, as explained by SGA Vice President Vayd Ramkumar.
"After [all the candidates] everyone finished their speeches, everyone selected their top three canidates," Ramkumar said. "Their first choice got three votes, second choice got two votes, and third choice got one vote. We then added up the total and selected the two with the highest total votes as senators."
The full results are as follows:
Frazer Hall, Juniors / Seniors
2nd floor–Michael Lu, Aaron Wan / Nathan Lee, David Heson
3rd floor–Andrew Ignatius, Cameron Wright / Boatner Calhoun, Austin Eubank
4th floor–Jackson Flowers, Neil Sanipira / Elijah Dosda, Aiden Leise
Goen Hall, Juniors/Seniors
2nd floor–Felicity Browning, Nina Vo / Faith Brown, Violet Jira
3rd floor–Emily Berry, Adriana Mays / Catherine Boltz, Talle Wilson
4th floor–Faith Bradford, Meghan Curry / Cecile Roberts
5th floor–Aabha Mantri, Camille Newman / Bertha Mireles
Results were sent out in an email by Elections Commissioner Guillermo Hoffmann, rookie and second-year senators in MSMS dress flocked to Hooper Auditorium at 6 P.M. on Tuesday. First, SGA president Esmond Tsang, Vice-President Ramkumar and Secretary Dennis Lee gave speeches to the assembly, with a special thanks given to Presidential Cabinet members Raven Day, Andie Nanney, Tiwaniya Tyler and Rachel Zheng for assisting with the election process.
Then, Director for Academic Affairs Kelly Brown spoke to the Senate, encouraging them to listen to their fellow students' ideas and comments. She also provided advice on how to get a bill passed.
"My advice is to make the administrators think," Brown said. "Make us debate about it. Even if you think it is controversial, keep putting it forward because someone is almost always on the side of the students."
When a bill passes in the Senate, it is sent to Dr. McConnell, who consults with the rest of the faculty and gathers their opinions on the bill. He can then choose whether to sign a bill into effect or simply reject it. If a bill is rejected, Dr. McConnell sends the bill back to the Senate with an explanation as to why he disagrees with the intent or wording proposed by the bill.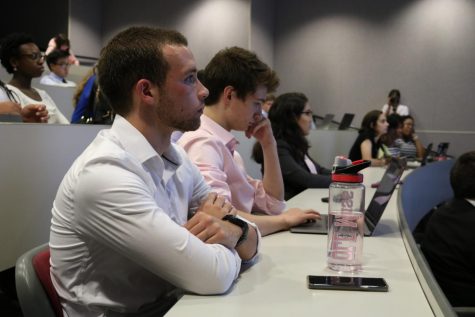 At the meeting, Senator David Heson presented a mock bill that would allow students to wear athletic shorts to class to show the new senators how the process of passing a bill works. After a bill is presented, a 25-minute debate period follows where amendments can be made to the bill. Upon conclusion of the debate period, the bill passed with a strong majority. Although its status as a mock bill means that it will not be sent to administration for review, it could be a precursor to a future bill regarding the same topic.
Heson was the only junior to get a bill signed into effect last year before running again this year. His bill allowed musical instruments to be played at a low volume in students' dorm rooms. He brought up the topic of wearing shorts as one of the bills he wants passed this year after being rejected last year.
"The shorts are something I tried to pass last year, and I want it passed this year because I don't think anyone will be distracted by them, and they are also cheaper because some students have to buy extra pairs of khakis for classes," Heson said.
Once the meeting adjourned, he said that one bill he would want passed, if he knew the administration would approve it, is to abolish study hours.
Senators from Goen Hall, such as junior Nina Vo, expressed their ideal bills as well.
"I personally want a bill to get passed that allows ripped jeans," Vo said. "That would be nice."
Overall, the meeting took an hour and featured much debate. Returning Senator Violet Jira shared her thoughts on the first meeting as a whole.
"It was a great Senate meeting. Last year, I wasn't at the first meeting because I was elected in a runoff about three weeks after the initial voting, so it was nice to be there," Jira said.
Runoffs, as in Jira's case, occur when fewer than two juniors or seniors run on one floor. After initial voting concludes, students can either nominate themselves or others for the vacant position, and the Senate votes on those nominated in a future meeting. This is the case for seniors on fourth and fifth floor in Goen Hall, so students can expect additional senators to be nominated and chosen in the upcoming weeks.
Senators will begin presenting official bills on Tuesday, Sep. 17., and meetings are open to all students from 6 p.m. to 6:50 p.m. every Tuesday.