Yarborough, Alums travel to New York to present Tales and Eighth of May
Every April, U.S. History students don their historical garb and flock to historic Friendship Cemetery to bring the dead back to life. In the thirty years that Tales from the Crypt has been in operation, it has become a staple program at MSMS, receiving numerous awards and praises nationwide. Along with the annual Eighth of May Emancipation Celebration, the two programs form the backbone of the history department, challenging students to combine painstaking research and public speaking skills to create a performance that lives up to its predecessors.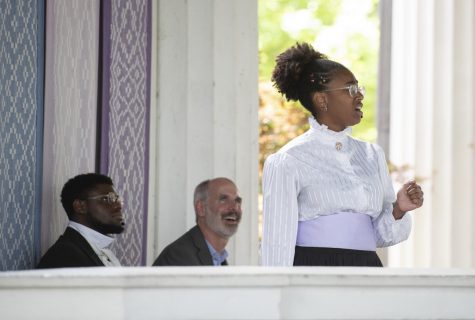 History teacher Chuck Yarborough has headed for most of his time at MSMS and recently had the opportunity to travel to Chautauqua with MSMS Class of 2019 members Darian Bowles and Erin Williams to discuss their performances with the Chautauqua Institution. 
"The Chautauqua Institution is an institution that lasts all summer," Yarborough said. "They bring in Pulitzer Prize winners, Nobel Prize winners. We were invited by James Fallows of The Atlantic.
"The title of the program was 'The Burial Ground is Common Ground.' The idea was to talk about how in both of those programs, people come into the cemetery, and they challenge [visitors] to think differently about race, class, gender, religion, and the divisions in our community to try to think about how you can mend those divisions."
Representing the coveted Tales from the Crypt was Erin Williams, MSMS alum and current Southeastern Louisiana University student.
"The opportunity to perform for so many people gave me a huge boost in my fondness for public speaking," Williams said. "In my performance, the most important thing to me was telling the story of Susane Casement Maer, and telling about how she was a successful newspaper 'editress' in a time when women were nothing more than housewives."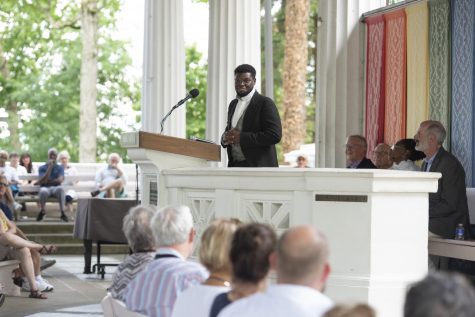 "I wanted people to hear her story and how big of a deal it was for her to be the main editor of her own newspaper," Williams said.
Darian Bowles, another graduate and current student at Chapman University, also shared his experience representing the Eighth of May at the institute.
"Being able to perform at Chautauqua was an enlightening experience," said Bowles. "To me, it represented the fact that people are interested in hearing stories they've never heard before and challenging themselves and their beliefs."
"The messages I wanted to convey are varied, but mainly I wanted to convey the struggles of the time period that Senator Gleed lived in and his dedication to reshaping the social norms of the time," Bowles said.
"This was a big deal," Yarborough said. "This would be the equivalent if you were a musical performer to be in Carnegie Hall. The Chautauquan Institute among humanities scholars and public policy folks is that kind of venue. It's been around for 150 years, and five presidents have spoken from the stage we spoke from. Martin Luther King, Jr. spoke from that stage. We were kind of standing on hallowed ground."
Both Tales from the Crypt and the Eighth of May will hold their next performances next spring.
Gina Nguyen interviewed all parties for this piece.