MSMS Waves VS Winona: Round 2
On Thursday night, January 10, both MSMS soccer teams returned to the downtown Columbus Soccer Complex to face off against Winona. The Lady Waves beat Winona 9-1, and the Blue Waves lost 0-1.
"
Even though we lost, I feel like this was one of our better games on terms of communication, position, and cohesion."
— Morgan Emokpae
For the Lady Waves, Senior Erin Williams scored 2 goals and led 2 assists. Senior Amber Means had 1 goal and 1 assist, and senior Erin Davis added an assist.
"At the beginning of the game, the team looked really rusty. As the game went on, though, we started communicating and cleaned up our passes," Williams said. "I think we played really well for a team who hasn't played together for a month." 
"Once we settled in and began to possess the ball, we were able to pull out an important district win," said girls' coach Chuck Yarborough.
Three juniors also played impressively. Taylor Willis and Niyah Troup, in particular, have been working hard in practice, and it shows on the field. The team has been anticipating their breakout and are amazed that both came through on the same night. The two each scored 2 goals. Tierah Macon also scored 2 goals.
"A lot of our goals were made by 'picking up the trash,' which basically means we watched where the ball was and found opportunities after each pass or shot," Willis said. "I was really proud of the entire team."
The girls are now 4-1-1 and 3-1 in the region.
For the Blue Waves, the night ended with defeat on the field. Players, however, are reasonably optimistic about the turn-out.
"Even though we lost, I feel like this was one of our better games on terms of communication, position, and cohesion," said Captain Morgan Emokpae.
"We played better possessing the ball than in our previous match," said boys' coach Morri Mims. "Our play development was improved. The area that needs to be worked on now is team fitness coming off the long break."
The team is ready to get back to work and improve for the last few games of the season.
The boys fell to 2-4, now 1-3 in region.
MSMS hosts Vardaman Monday, January 14, at the downtown Columbus Soccer Complex.
Hang on for a minute...we're trying to find some more stories you might like.
About the Contributor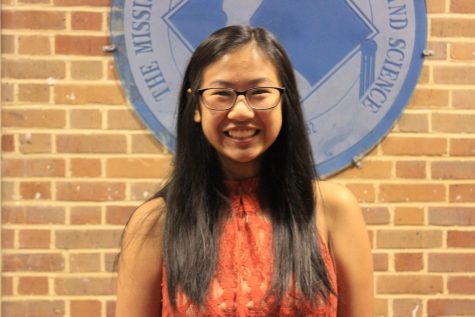 Gina Nguyen, Photography Editor
Gina Nguyen, this year's Photography Editor, is from d'Iberville, MS. She is a part of the MSMS Graduating Class of 2020. Being a part of The Vision gives...