MSMS Defeats West Point in Memorial Soccer Game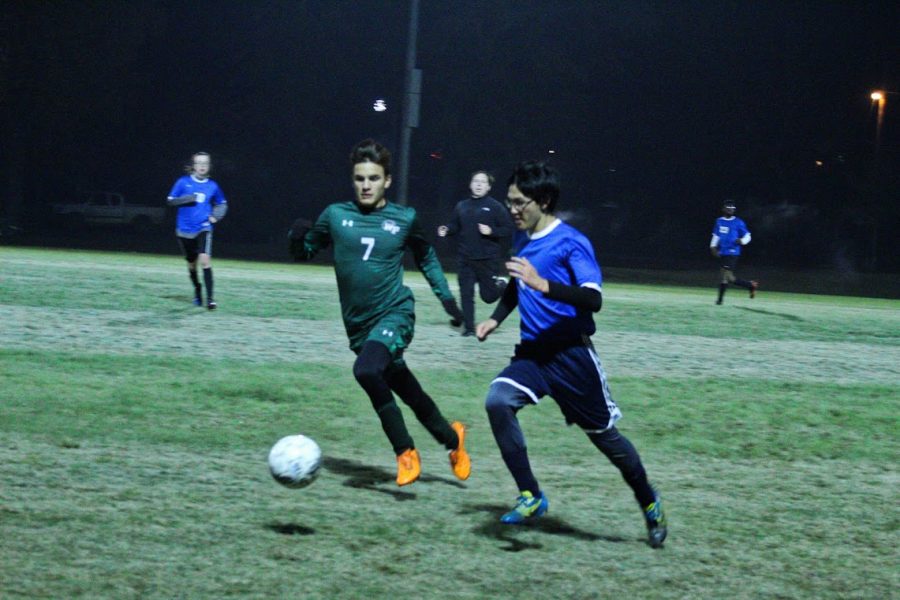 Last Thursday, Nov. 15, the girls' and boys' soccer teams both played their first regular season games against the West Point High School Green Waves at the Columbus Soccer Complex. In this clash of the waves, both MSMS teams managed to pull the victory giving them a 1-0 start for the season.
Before the game, the athletes on both teams joined together in a moment of silence in honor of a West Point High soccer player, Jonathan Fondren, who recently died in a car accident.
"The moment of silence/prayer circle we had for the West Point player was really great," said Lady Waves captain Madison Wypyski. "I am so glad both teams were able participate in such a strong and meaningful moment."
Immediately following the tribute, the girls' game kicked off.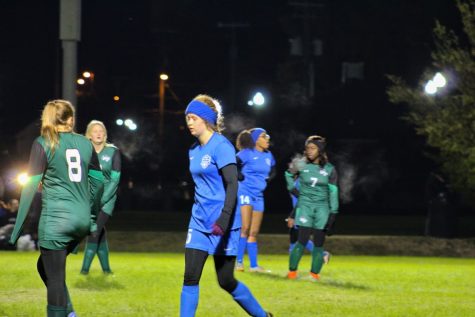 Although it was a relatively cold evening, the Lady Blue Waves still bested the Lady Green Waves with an 8-1 win.
Leading all scorers, senior Erin Williams had a whopping four goals along with an assist. Senior Mia Riddley had an assist, and junior Niya Troup and senior Arin Kelly both scored a goal. Junior Tierah Macon scored two goals.
"My most memorable moment happened after I made the goal. Madison sort of ran from her position as defense and gave me two high fives," Macon said. "It made me really feel like I was doing at least one thing right."
Wypyski says that she loves to see her "junies" score.
"It was a good opening night, but we have a lot of work to do improving our passing, possession, defending and scoring," said head coach Chuck Yarborough. "After having the start of our season delayed by weather cancellations, we were glad to be able to play even though it was a frigid night."
"Growth individually and as a team is what we'll be looking for after the Thanksgiving break," Yarborough added.
Following the girls' win, the ball kept rolling into the boys' game.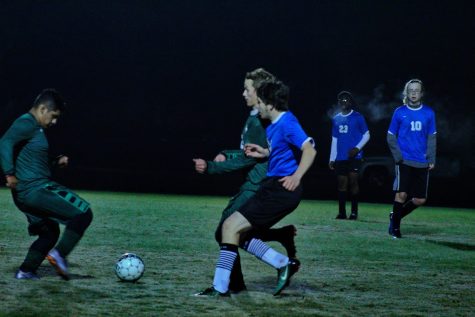 The Blue Waves–looking to make improvements from last season–defeated the Green Waves in their match with a final score of 5-2.
Heading into the game, the Blue Waves primarily focused in diversifying plays. They practiced passes from the outside to the inside and inside to outside. Using these very plays, they were able to get openings against the Green Waves, who predominantly defended from the outside, thus allowing them to score.
"The game was a great chance for us to see what we have and to give players firsthand experience," said team captain Morgan Emokpae. "Overall, it was good."
Junior William Calhoun scored three goals, and he was followed by Morgan Emokpae and junior Britton Phillips each adding an additional goal.
"It felt good to finally get on the pitch and start the season," said head coach Morri Mims. "We started well, and we'll look to build on this game and continue working for a successful season."
In the next game, MSMS will host the Nettleton High Tigers at the Columbus Soccer Complex on Tuesday evening, Nov. 27.
About the Contributors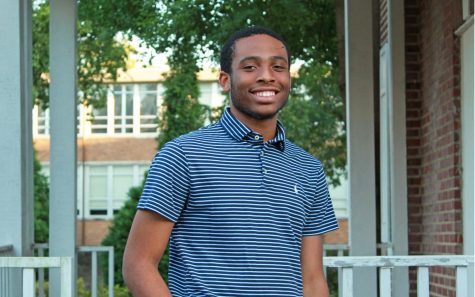 Cameron Thomas, Managing Editor
Cameron Thomas is a senior from the small town of Port Gibson, Mississippi. Serving as this year's Managing Editor and previously a copy editor, he enjoys...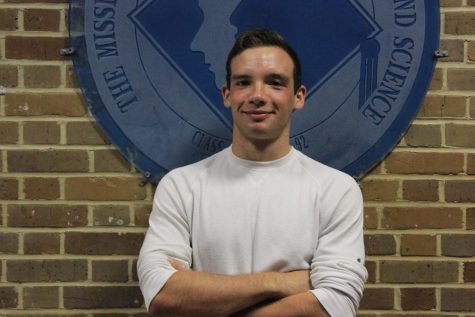 Elijah Dosda, Sports Editor
Elijah Dosda is the Sports Editor, and his motto is "There's always more coffee. Who needs sleep?" So far, (besides classes) he is involved in swim, cross...