Next Stop for Kymbria T. Thomas is Vanderbilt
Hang on for a minute...we're trying to find some more stories you might like.
This week's spotlight shines on MSMS Emissary and QuestBridge College Match scholarship recipient Kymbria T. Thomas. She is in her last year at MSMS, and next fall, she will be moving to Nashville, Tennessee to attend her dream college, Vanderbilt University, as a QuestBridge Match Scholarship recipient.
Thomas hails from Greenwood, where she attended Greenwood High School before coming to MSMS. According to Thomas, MSMS was an excellent opportunity for her. Like most MSMS students, she felt like she was not challenged enough at G.H.S. There, Thomas was a part of the student council, and she was the captain of the flute section of the band. At MSMS, she smoothly transitioned into some of the same clubs; she is still an active member of the Beta Club and Mu Alpha Theta. In addition to Beta Club and Mu Alpha Theta, Thomas is a member of Blu Diamondz, M.J.C.L. (Latin club), S.E.A.L., G.S.A. and Black Student Alliance.

During her free time, Thomas likes to listen to K-POP music and spend time with her friends. "The group I listen to the most is BTS, but I also listen to EXO, NCT, GFRIEND, Twice, Dean, and a few songs from other groups and artists," Thomas said. She also watches dance videos in her free time. "I can't dance, so I like to watch other people do it," Thomas said.

Thomas was one of the many students who applied for the QuestBridge scholarship. The QuestBridge College Match is a scholarship that helps high-achieving, low-income high school seniors gain full four-year scholarships to the nation's most selective colleges. The QuestBridge application is very tedious, but with dedication, Thomas completed it, matching with Vanderbilt in the end and gaining access to the QuestBridge Scholars Network.

"I did Questbridge because I knew I wanted to go to college, but I didn't know how I would pay for it. I wanted to go to Vanderbilt, but I wouldn't have minded ending up somewhere else if it meant I could go for free, so I saw Questbridge as a great opportunity," Thomas explained.

When speaking about Vanderbilt, Thomas was humble and grateful. "I am overjoyed about being matched. I still find it unbelievable that I was matched with Vanderbilt, which was my first choice," she stated as her smile widened.  

Thomas wants to attend college and major in chemistry to become a pharmacist. She is an overall excellent student. During the summer, Thomas participated in the Bulldog Pharmacy camp at Samford University in Birmingham. Now, she is a mentee at a local private pharmacy.

"I've always wanted to work in the medical field to help people, and I originally wanted to be a pediatrician. I attended a pharmacy camp over the summer because I wanted to see if I had any interest in it. Before this point, I had never considered pharmacy. After attending the camp, I realized that I really like pharmacy and saw it as something I felt I could do for the rest of my life," Thomas stated.
About the Writer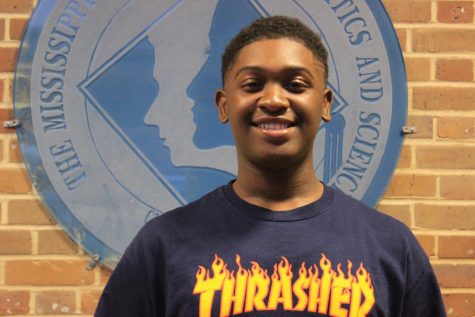 Tyler Branch, Social Media Assistant
Tyler Branch is a senior who is a part of The Vision. He enjoys hanging out with family and friends and showing goats in the 4-H. He is also a part of...