Teacher Spotlight: Scott Colom
Every week, District Attorney Scott Colom offers his time to teach and coach MSMS's Mock Trial team. Colom's job as a lawyer coach began six years ago. Colom says, "about 6 years ago a lawyer that I knew was moving from town, I think she had been a lawyer coach for mock trial for MSMS, and she asked me to think about being the lawyer coach for MSMS. At that time the main person keeping the program alive was a math teacher named Claudia Carter. So I started working with her and the students, and I've been doing it ever since."
Though Colom had never coached a Mock Trial team before, he has had many years of experience by participating on a team throughout high school, college and law school.
In his time at MSMS, Colom has honed his coaching abilities, learning how to present important material and giving students enough time to practice. "Over the years, I've been doing it long enough to know what to focus on, and how to teach it," says Colom. "The first thing I always focus on is the rules of evidence because that's the toughest thing for the students to learn because they're sort of really complicated concepts like determining whether [what someone says at a trial is relevant]. . . Also focusing just on how to be persuasive: use your voice, use your hands, be confident…Really it just takes a lot of practice."
Colom knows how to teach information, but his enthusiastic coaching is what makes students excited to participate in Mock Trial. Reyhan Grims says Colom's energy motivates the class to work hard. He says, "I like how involved he is with his lessons. He is very passionate about law because he is the district attorney, and this year especially, he has been trying to enforce us with the idea that he really wants us to win. And his drive motivates us to do better in Mock Trial."
Even though Colom's class is valuable to those interested in a law career, he also plays an important role in simply informing students about our country's law system. He stresses that "Even if you don't want to be a lawyer at all, just learning so much about the legal system is beneficial. Most of the people that take the class aren't probably going to be lawyers, but I think afterwards, they know more than the average citizen, simply because they took this class."
Regardless of students' future plans, students have learned much valuable knowledge from Coach Scott Colom's class, and MSMS is grateful for his contributions to the MSMS Mock Trial team.
Hang on for a minute...we're trying to find some more stories you might like.
About the Writer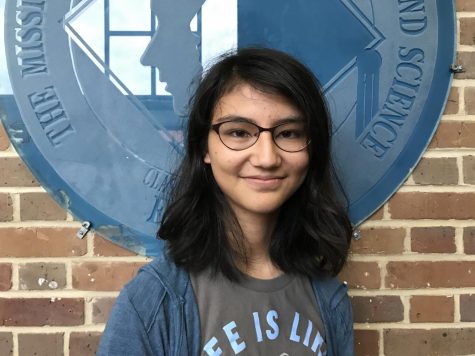 Vivienne Tenev, Graphics Editor, Senior Cartoonist
Hello! I'm Vivienne Tenev, graphics editor and senior cartoonist. I like art (as you've probably inferred from my illustrious titles), taking care...