Students Ring Bells for Salvation Army
On Dec. 8, MSMS students set out to end the first semester with a bang, or well, a ring. MSMS students fought the cold weather as they stood outside of Walmart ringing the bells for the Salvation Army donation box with a goal to raise money for the Salvation Army while spreading good Christmas vibes.
Although ringing the bells forced students to confront unusually cold weather, the majority of them enjoyed the community service activity. Junior Caitlin Jordan, who has never rung the Salvation Army bells before, said, "It was really nice to do, even if we were freezing."
The students rang the bells for about an hour and half, bringing Christmas joy to Walmart shoppers. According to Junior Indu Nandula, the group spread joy by singing off-key carols to those walking in and out of the store. Songs sung by the volunteers included, "Jingle Bells," "We Wish You A Merry Christmas" and other classics.

Loading ...
Jordan commented on the spirit the public shared with the volunteers. "All the people were really nice to us," Joran said.
This year marks the third year Latoya Bledsoe, Goen Residential Hall Director has brought the students out for the Salvation Army bell ringing. Bledsoe's goal is to get students out and volunteering in the community and getting the word out about The Mississippi School for Math and Science.
Bledsoe believes that one should always give back to the community because there is always someone who needs help. After all, community is one of the four pillars that makes up The Mississippi School for Math and Science. These pillars are ideals that MSMS students place effort into upholding with pride.
The great takeaway from this experience is that there will be many opportunities to do small community service projects. Many times it could be troubling, but in the end it will be rewarding for both the volunteer and the cause.
Hang on for a minute...we're trying to find some more stories you might like.
About the Writer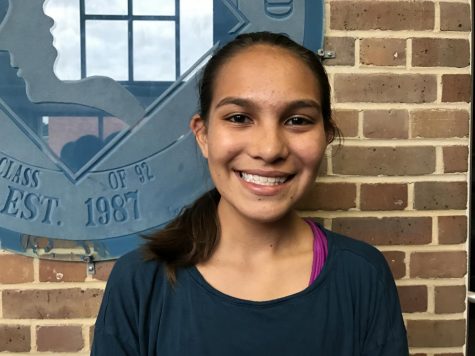 River Gordon, Staff Writer
I'm River Gordon, and this is our newspaper. I'm here with my old man, Yousef and my teacher Mr. Richardson-. Everything in here has a story and a price. One thing I've learned after two weeks – you never know WHAT story gonna come on that paper.
I love watching TV Shows like Pawn Shop, Tanked, Death Note, Grey's Anatomy, Reign, and Psych. This is my first year at MSMS and newspaper, I hope I do well. Feel free to come up and talk to me about anything because I can be very talkative. However, please note my bed is very comfy so you might not see much of me.