The Student Spotlight Shines on Harpreet Singh
Harpreet Singh is an MSMS senior who was born and raised in Clinton, Mississippi. His personal interests include educating himself on various mythologies and religions as well as staying abreast of current events and politics. Singh acts on these interests through his wide range of club activity and his plans for the future.
Harpreet is a co-president of the Interfaith Dialogue Society, the Vice President of MMSC, and the Vice President of Young Democrats. "Coming from an ethnic background that is sometimes misunderstood as well as learning about new religions and cultures were motivators to join Interfaith Dialogue Society. As far as MMSC and Young Democrats go, I like to keep up with foreign and domestic affairs and see the different perspectives that come with them," said Singh on what inspired him to join these organizations.
Alexander the Great provides inspiration for Singh; some of Alexander the Great's most notable characteristics being his stoicism, strategic skills and his demonstrations of impeccable leadership. Singh demonstrates some of these qualities through his hobbies; he exercises his skills in strategy and stoicism through playing sports,especially basketball, and chess while he shows leadership through his proactive club memberships.
In his free time, Harpreet can be found watching some of his favorite TV shows, such as "Arrow" and "The Flash." However, at MSMS, occasions where there is free time are few and far between. Although, the experience is definitely worth the packed schedule! "I honestly do not know where I would be without MSMS. I mean, I would still be attending Clinton High School, but coming to MSMS has definitely been much more of an enriching high school experience," expressed Singh.
Singh furthers this by saying that one particularly defining point in his life was the choice to apply to MSMS and that choices incredible outcome. The time he has spent at MSMS, he explains, has taught him that "everyone struggles in fighting an uphill battle, but you have to realize at some point that you do not have to go at it alone. You will always find people to have your back and lend you the strength and support that you need."
The MSMS experience has also assisted in knowing how to capitalize on his strengths, which includes his diligence and drive towards success, and conquer his weaknesses, such as time management.
While Singh is unsure of his preferred career, he knows that he wants to attend Harvard University and major in government and foreign policy. He states that, with this, he plans to one day "positively impact people and hopefully work to tackle problems in order to better our society."
Hang on for a minute...we're trying to find some more stories you might like.
About the Writer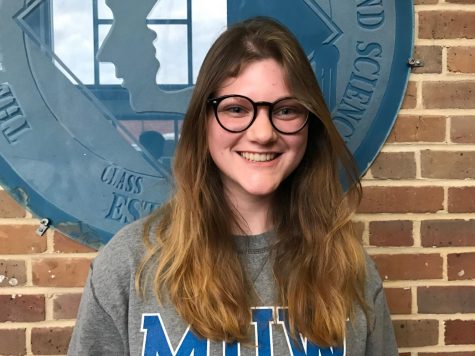 Elizabeth Smith, Staff Writer
Hello! My name is Elizabeth Smith and I am in the MSMS graduating class of 2019. I love to read, promote self health and environmental protection, and learn languages. I hope to one day graduate with a linguistic science major from Harvard University. I am an aspiring linguist and hope to one day be a translator in a governmental foreign relations setting. Writing for The Vision is an amazing and enlightening experience that I am excited to partake in!