Pal Patel Beams Under Student Spotlight
In addition to giving the best back-patting hugs and compulsively doodling elephants on her notes, senior Pal Patel shines in the spotlight as an active member of the MSMS community, respected by her teachers and classmates alike. As the secretary of Asian Student Association, the Crepe Supervisor for French Club, a Russian delegate in Model Security Council and a 2017-2018 Emissary, Patel is leading a busy schedule during her final year at MSMS.
Like many other students, Patel expresses that she chose to apply to MSMS because she was drawn to the challenging coursework and number of AP and University classes that were provided. "Also," Patel stated, "I really like the diversity and community of MSMS… because I know people will always have my back here, no matter what."
Hailing from Magee, Mississippi, Patel describes her younger self as a "tomboy." Growing up with an older brother kindled her interest in playing sports and learning science over painting fingernails and dressing up in princess gowns and ultimately influenced her decision to apply to the Air Force Academy. Because of her compassion for others as well as her determination, Patel plans to major in hospital administration and one day be a member of a board of directors at a world-renowned hospital. Patel exhibits the grit found rarely in the rest of the population but prevalent among MSMS students. She's not afraid to dream big because she knows she will put in the effort to turn her dreams into reality.
Of course, Patel did not reach all of her achievements at MSMS solely by herself. "A person who inspires me the most is my mom," Patel said, "because I know she believes in me and I cannot let her down." In addition to her mother's wisdom, the prospect of going to bed before lights-out is another incentive for Patel to finish her work — a source of inspiration that all MSMS students can relate to.
Hang on for a minute...we're trying to find some more stories you might like.
About the Contributor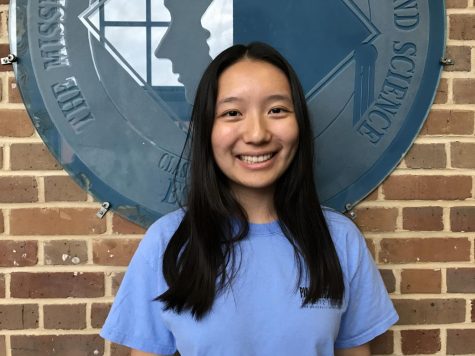 Victoria Gong, Managing Editor
Victoria Gong, a senior at MSMS hails from Vicksburg, MS, is the Managing Editor of The Vision. When Gong isn't organizing articles for The Vision, you...