MSMS holds '21 Talks' focused on Female Mental Health
What are the challenges of being young and female today? A recent student-led seminar offered what the organizer, senior Madison Meeks, described as "a safe-space for females/the female-identifying to express laments concerning mental health."
These laments include eating disorders, fearfulness and low self-regard, according to student panelist junior Maddie Phillips.
To at least one of the males who attended, the discussion was eye-opening. Junior Jordan Isbell said that listening to the panelists furthered his belief that societal barriers between men and women must be broken down.
"Women are often expected to look a certain way because society tells them what beauty is supposed to be, and that causes a disconnect between men and women because there's this 'standard' that we applied to them that creates large issues of identity crisis and social anxiety," Isabel said. "Because of that, we (men) tend to not truly understand the struggles of what a woman goes through and it creates conflicts between the two when there shouldn't be a standard in the first place."
Held on March 31, the "21 Talks" event marked the end of Women's history month and focused on the importance of addressing the issues women face in everyday life.
The discussion was led by student panelists Nala Nathan, Aabha Mantri and Phillips, with attendees getting a chance to take their turn sharing as well. Phillips expressed her gratitude for being chosen as a panelist.
"I was honored to get to speak on such important issues," Phillips said. "These are things women everywhere have to face on the daily, and having open conversations, such as '21 Talks,' helps get the ball rolling and bring attention to these problems."
Meeks emphasized the judgment-free nature of the event and the importance of talking through problems with others.
"I feel like those who attended were able to feel safe and vulnerable enough to talk about some of the things that plague us mentally as females and female-identifying," Meeks said. "I heard a good bit of people say they mentioned things they've never told others about, and that's truly the purpose of '21 Talks'– to provide a safe space so that people feel comfortable telling their stories."
The fact that several males attended was encouraging, she said.
"I am actually glad to see that a couple of guys came as well," Meeks said. "They may not relate to what was being discussed, but the mere fact that they came to hear what goes through the minds of females on campus shows they are willing to be allies and provide us with a safe space to be vulnerable as well."
Phillips reflected on the impact it had and how proud she was of her fellow students for coming out and supporting their fellow women.
"It is so incredibly important we continue to talk about and shed light on issues such as eating disorders, fear women live with, learning to love yourself and more," Phillips said. "If we stay silent, we stay complacent. When you just ignore a problem, it does not go away. That is why participation in events like '21 Talks' is so crucial. They let us know we are heard, and we are seen. They let us know none of us are alone in our struggles. In these moments, our feelings and thoughts feel valid."
About the Writer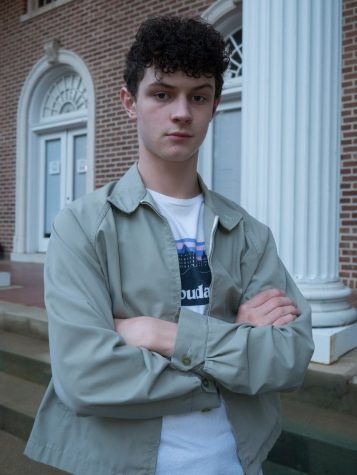 Caleb Jenkins, Entertainment Editor
Caleb Jenkins is a senior from Columbus, Miss. He has a strong passion for the arts, especially music and film, and he plans to pursue a career in one...