Making waves: Waves end regular season amidst pandemic
The Waves are ending the season with a bang.
On Saturday, January 23, both the girls' and boys' soccer teams faced off against St. Joseph Catholic at night after matches with Yazoo County and the Senior Presentation. Both matches had been rescheduled due to COVID-19 and weather issues. The game against St. Joseph was the last of the regular season for both teams, though the boys' team will advance to the MHSAA Soccer Playoffs on Tuesday, Jan. 26.
Girls' team has a ball
St. Joseph defeated the girls' team 8-0. Within the game, senior Camille Newman had seven saves. Though the opposition was tough, that didn't stop them from giving the game their all.
"Going into this game knowing we would be facing a skilled and athletic team, everyone played to the best of their abilities and had a great attitude the whole time," senior captain Ashley Mangus said. "I feel as though we won as a team due to the immense growth and success we've had throughout this strange season."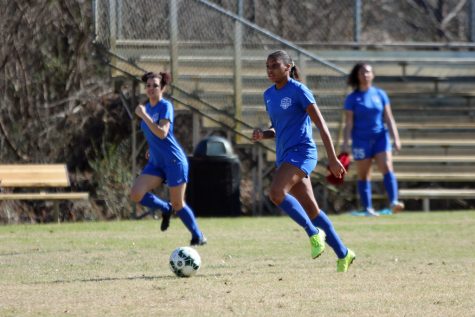 The game against St. Joseph was the last match of the season. Juniors and seniors alike cherished the time they spent playing as a team together.
"We had a lot of determination and continued to play the hardest we could since it was the seniors' last game," junior Destiny Van said. "We wanted to do our best for them."
The juniors and seniors spent less time playing together as a team compared to previous years, since soccer matches and practices during the past season were less frequent due COVID-19 guidelines. Despite having fewer practices, the team made the most out of the time they had.
"We did pretty well despite our circumstances, and if we had more practices I think our performance could have improved," junior Vidhi Patel said.
Coach Chuck Yarborough was also disappointed that the team could not practice as much as in normal years, but was proud that they persevered and achieved a winning streak during the season.
"For this group to do so well in such a difficult year is a tribute to their character," Yarborough said. "This team clearly demonstrated two great lessons of sports: if one works hard, they can improve themselves, and if we work together, we can improve our team or community."
The girls' soccer team ended the season with a 5-3 overall record and a 2-2 district record.
Blue Waves advance to playoffs
For the first time in almost a decade, the MSMS boys' soccer team is advancing to the playoffs. This comes after a 7-5 win over St. Joseph in penalty kicks. Junior Nicholas Djedjos and senior Cameron Wright scored a goal each during the first half of the game, and St. Joseph tied by scoring twice. Senior Nathan Lechner saved a penalty kick before halftime, allowing the Blue Waves to finish the game at 2-2 and go into penalty kicks. Senior Trevor Allen, junior Chingun Tsogt-Erdene, senior Nathan Lechner, junior Raeed Kabir and senior Conner Davis scored during the PK series, while Nathan Lechner saved four shots, ultimately resulting in a victory.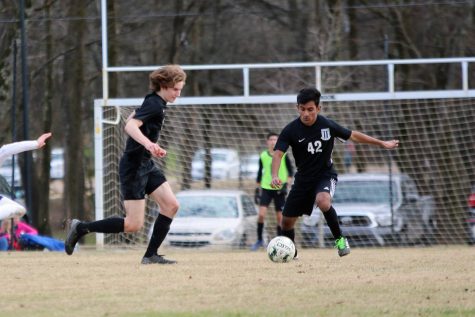 This win was particularly meaningful since St. Joseph had won via the mercy rule last year when they beat the Blue Waves 7-0.
"We knew we were up against a challenging team," Kabir said. "St. Joseph's completely wiped the floor with the boys' team last year, so we knew we had to work really hard to win."
Junior Nicholas Djedjos was excited to score and contribute to the team's win. Despite being exhausted from the match against Yazoo County earlier in the day, he and other teammates dug in and played hard.
"This game meant a lot to me, as one of my goals when I came to MSMS was helping the team reach the MHSAA Soccer Playoffs," Djedjos said. "It was a must-win game, even though our legs were tired after coming off the first game in the afternoon. All of us worked 110%."
The team's determination impressed Coach Armando Leyva and positively influenced his ability to lead the team to the playoffs. This was his first season coaching the boys' team.
"I feel lucky to have come to coach the MSMS Blue Waves this season," Leyva said. "I was entrusted a team full of talent and positive attitude, which are qualities that make it easier to guide a team in the right direction."
As the season draws to a bittersweet end, senior captain Trevor Allen believes the regular season was unusual but strong and allowed the team to grow closer to one another.
"I'm sad it's over, but ready to look forward to what's to come," Allen said. "I am proud of my teammates for not giving up, and I'm glad to call them my brothers."
The Blue Waves have a 5-2 overall record and a 3-1 district record. They will face Amory High School in the playoffs on Tuesday, Jan. 26.