'Jingle Jangle': the best Netflix invention for the Holiday Season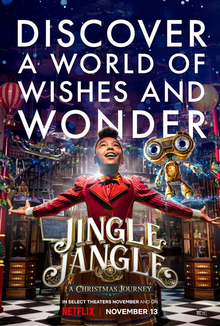 David E. Talbert did it again!
"Jingle Jangle" is a hit! Thank you, Netflix!  From the characters, plot, music and development, this Christmas movie is bound to put plenty of households in the Christmas spirit, one desperately needed during this pandemic. 
First and foremost, "Jingle Jangle" is one of the first melanated family Christmas movies I have seen in a long time. Forest Whitaker, Phylicia Rashad and Anika Noni Rose (yes, Princess Tiana) are some of the greats featured in this movie, and they definitely lived up to their hype and exceeded my expectations. It was amazing to see that Forest Whitaker still had it because I never get tired of seeing his name flash across the screen as a member of the cast for any movie. It was great to see that "Jingle Jangle" brought in some fresh Black faces as well. Kieron Dyer and Madalen Mills, who play Edison Latimer and Journey Jangle, respectively, were joys to see on-screen. Their child-like joy, innocence and curiosity are transferred through the screen to leave you on your toes, eager for the future, just as they were. Even the villain of the movie, Gustafson, played by Keegan-Michael Key (yes, Key from "Key and Peele"), gave me life. The characters in this movie were superb. Their charisma and personality shine through their characters to lure you into the world Talbert created, and I loved it. 
When has a family Christmas movie ever portrayed a Black man as an inventor? Never. This one does. Forest Whitaker's character, Jeronicus Jangle, was introduced as "the greatest inventor in the land." This man creates everything. It was a joy to see. He creates an equation for the circumference of spectacular, the second derivative of sensational, and the square root of possible. Due to some unfortunate events, he loses his magic of invention and motivation, which leads to a strained relationship with his daughter, Jessica (Anika Noni Rose). However, the burning flame of magic that blazed within him now burns within Journey, the spark and catalyst for the enchantment of this movie. 
This movie was unpredictable in every aspect. The plot keeps you alert, eager for the next scene. One thing that wasn't predictable about this movie was the quality of the music and choreography because it was nothing short of amazing. In retrospect, I should've expected that, with Anika Noni Rose being on the cast and all. The harmonies and blends in the songs made the "choir kid" in me rejoice. These songs were full of soul, which made the "Baptist choir kid" in me leap for joy. I think one of the best parts– and the most family friendly part of the movie– was the enticing choreography during the songs. Every movement seemed to be calculated to draw you in to really listen to the song, observe the choreography, and anticipate what's coming next. 
This movie was nothing short of magical in every way imaginable. This was desperately needed for all families during this pandemic. It brought even more joy to my soul to see the main characters were Black, and they made abstract concepts such as spectacular, sensational and possibly come to life by using mathematics. One time for the Black folks in STEM!  
The real, tear-jerking beauty came at the end of the movie when Journey's grandchildren realized the story of Jeronicus was the story of their great-great grandfather, and that she was the Journey who helped her grandfather get his groove back. 
This movie was everything I needed to see and feel to regain some of the joy I lost over the course of this year. "Jingle Jangle" is a must-watch for everyone to bring generations together–over Zoom or Netflix Party– to witness the possibility of sensational and spectacular come to life.
About the Writer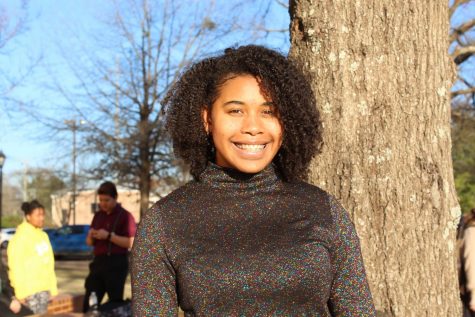 Madison Meeks, Staff Writer
Madison Meeks is a senior hailing from Yazoo City, Miss. by way of Greenwood, Miss. She is a huge fan of A Different World, Strawberry Lemonade Sunkist,...