Guest lecturer wows creative writing students
Students in Mr. Thomas Richardson's Creative Writing class recently received an "incredible" visit from an acclaimed author. On Thursday, Oct. 22. Katy Simpson Smith spoke over Zoom about her work as a novelist and answered questions from students about her writing techniques and processes.
Smith, who is on a virtual tour for her most recent novel "The Everlasting," has written numerous books and serves as an active member of the writing community. Her website states, "Katy Simpson Smith was born and raised in Jackson, Mississippi. She received a PhD in history from the University of North Carolina at Chapel Hill and an MFA from the Bennington Writing Seminars." She began writing as a hobby but later realized that she wanted to make it a career.
"I got my PhD in History and wrote about motherhood in the early American South, but I got frustrated with my limitations as a historian, so I started an MFA program in writing. I realized that I'm interested in what people feel and their emotions and not what they did. From day one it was like I found my people when I started the MFA program," Smith said.
She also heavily emphasizes marginalized voices in her work, as she wants to shed light on the experiences not often talked about.
"I write about people who don't look like me," Smith said.
Blake Cheater, a Creative Writing student, strongly enjoyed Smith's guest lecture, especially when she discussed the struggles that she faces as a woman in the publishing world and her experience as a writer.
"I had an incredible experience being able to speak with Katy Simpson Smith and gaining insight into the world of professional creative writing. She explained the tedious process of publishing work and detailed the challenges she faced as a woman, which were more than I expected," Cheater said.
Shelby Tisdale also thoroughly enjoyed the experience, gleaning much advice and relating to Smith.
"I particularly connected with Katy Simpson Smith's reflections on the influence of Jackson in her work and artistic identity, and I admired her peace and commitment to her writing in the face of rejection and criticism. She offered great insight into the resiliency of successful artists," Tisdale said.
Richardson, writer and teacher of Creative Writing, focused on Smith's impact on the class and the importance of similar experiences.
"Mississippi is a talent-rich state, and our students need to hear through class visits, the Welty Symposium and similar events that people from here can really shape the game on a national or international scale. I was also impressed with the preparedness of our students and the questions they asked," Richardson said. "They're learning how to be good writers not just for the time they're in the course or submitting to contests; they seem interested in pursuing writing for a long time."
Richardson also felt that the event offered important insight into fiction writing for students.
"Ms. Smith's visit was an incredible opportunity for our students to learn about the craft of fiction writing from someone who is at the top of the writing world right now," Richardson said.
About the Writer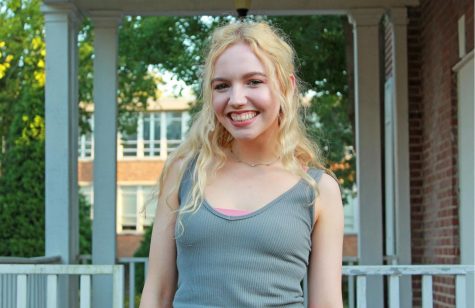 Gracie Rowland, Managing Editor
Gracie Rowland is a senior from Columbus, Mississippi. She dedicates her life to the pursuit of truth and wakes up every morning in search of beauty. Her...