Seniors share grief about COVID-19 pandemic
"I waited 18 years for my senior year, and now, it seems as if it's been taken away from me," said MSMS senior Mykailla Foster. Foster traveled home from school on Friday, March 6, for Spring Break. Little did she know that Friday, March 6, could possibly have been her last day seeing her teachers and classmates in person ever again.
This has been a reality for most high school seniors across the nation with the recent coronavirus disease (COVID-19) outbreak and pandemic. 
According to the World Health Organization, COVID-19 is an infectious disease caused by a newly discovered coronavirus. Most people infected with the COVID-19 virus will experience mild to moderate respiratory illness and recover without requiring special treatment. Older people, and those with underlying medical problems like cardiovascular disease, diabetes, chronic respiratory disease and cancer are more likely to develop serious illness.
Just within the past few weeks, there have been over 75,000 reported cases of COVID-19 in the U.S. The government and the CDC therefore recommend that people practice social distancing, along with taking other precautions to further prevent the spread of the disease.
This has led to schools closing for weeks and large events being canceled. MSMS has converted to distance learning for the time being. Many high school seniors feel as if this has disproportionately affected them in a negative way.
"
As a senior, there is no second or third chance. This is it. We graduate and move on."
— Gina Nguyen
"As a senior, there is no second or third chance. This is it. We graduate and move on. I'm just saddened to see it end so abruptly with nothing to soften the blow," senior Gina Nguyen said. "I think these precautions are for the greater good, but maybe instead of straight up cancelations, we could have postponements, even if it's deep into the summer. I understand it may not be the best choice on all ends, but it would certainly be better for students who deserve it."
Annual events including but not limited to prom, Tales from the Crypt, Mu Alpha Theta State Convention, International Cultural Festival, Mississippi Scholastic Press Association Convention, Future Business Leaders of America State Convention and International Science and Engineering Fair have all been canceled. Other upcoming events, such as graduation, are subject to being pushed back or canceled also if the curve does not flatten by the end of May.
"I high-key hate that this is happening during my last few months of high school. I was excited to see the Tales [from the Crypt] performances because I didn't get the chance to go last year," senior Aja Ceesay said. "I was excited to experience ICF from another perspective since I was in the program last year."
For reference, MSMS students sacrifice many typical high school experiences that were normalities at their old schools. There are no Friday night football games or basketball games. There is no homecoming. Therefore, students look forward to events like Tales, ICF, prom and state/national conventions just to get away from the everyday stressors of the classroom and homework.
Many seniors feel as if their hard work and energy have been wasted.
"We've all put in a lot of time and work to get to where we are. We sacrificed our time, mental health, previous friendships, time with family and so much more to come to MSMS," senior Niamke Buchanan said. "We can't just pick that all back up when they say we're having an 'extended break' and 'distance learning.' Part of the MSMS experience is being on campus meeting and living with all these different people."
Students are understanding of the situation; however, many feel as if their perspective is being pushed aside or misunderstood.
"All of our hard work for planning events goes down the drain, and the compromise is nowhere near equivalent to the amount of time, effort and energy that has gone into these projects," senior Rachel Zheng said. "I understand safety first, but you only live once and experience one senior year. It is extremely regretful that we seniors are not able to host, participate and have fun in the events that were planned in the next two months."
"
I understand safety first, but you only live once and experience one senior year."
— Rachel Zheng
"Our safety is important, but I feel like, instead of pushing things back, they are just canceling these events without taking into consideration that some of us will never get to experience this again," senior Katelyn Booker said. "I also don't appreciate being told to 'chill out' or 'it's not that big of a deal' [on social media], yet the people telling me that didn't or won't have to fear not having a graduation after working so hard for 13 years."
With March being the time where seniors receive final decisions from colleges, many seniors fear that COVID-19 will negatively impact their process in choosing schools.
"Unfortunately I have only visited three colleges in my life, and none of my top acceptances/options are the ones that I visited," said senior Bertha Mireles. "I believe strongly in 'feeling' a place out, but unfortunately, I will be restricted to youtube videos and pictures to make my decision." 
"Having received all of my decisions, Wellsely was the only school that I applied to and was accepted to that I hadn't visited at one point or another," said senior Violet Jira. "The fact that if I attend the school, the first time I'll see the campus is on move-in day sucks and is definitely playing a huge part in the decision now."
More than anything, seniors, such as Senior Class President Alisha Burch, fear being stripped of graduation.
"My whole life was spent in an educational environment which brought me happiness, motivation, and pain. Every morning I would reluctantly open my eyes, fighting the thoughts that maybe what I'm doing is a waste of time. All the strength [that] I used to fight those doubts came from one day: graduation," Burch said. "The image in my head of hugging my family, wiping my tears, and holding up my diploma to the sky to even let the family members in heaven know that I made it was one of the most important accomplishments I considered reaching. Now it seems like it'll never occur."
"
The image in my head of hugging my family, wiping my tears, and holding up my diploma to the sky to even let the family members in heaven know that I made it was one of the most important accomplishments I considered reaching. Now it seems like it'll never occur."
— Alisha Burch
Some seniors, however, had differing opinions, and they looked at the entire situation from another perspective.
"I would be lying if I said I didn't miss MSMS, but I think we need to see the bigger picture. People who are older and have serious conditions are still at high risk, even if you aren't," senior Simeon Gates said. "With so much uncertainty, it makes sense that officials want to be extra careful and cancel events with masses of people. It hurts now, but it is for the greater good."
"I have a lot of respect for the administration, faculty, and staff that have been working hard to make the transition to online classes as easy as possible," senior Ryley Fallon said. "If being at MSMS has shown me anything, it is that I really care about the community there, which means that safety for everyone is also my top priority."
MSMS Executive Director Dr. Germain McConnell, student leaders and other MSMS faculty/staff are working to ensure that the MSMS experience is still somewhat preserved for students even though they currently cannot be on campus.
"Regardless of what happens for the remainder of the semester, we are planning focus groups with seniors and their parents to discuss options for providing activities that will help seniors feel some sense of normalcy," McConnell said. "Nothing can be set in stone without including those who this impacts the most in decision-making. We are open to all recommendations made by seniors and their families."
McConnell shared a few words of encouragement to discouraged seniors:
"One thing that gives me tremendous hope, however, is that we are blessed with a tremendous group of MSMS seniors who truly have the ability to change the world for the better. Our mission is to 'enhance the future of Mississippi,' partly by how well we prepare you to make an impact. I urge you to use this experience to focus on your future impact on not only Mississippi, but this world.  During times of great difficulty, we find out who we really are and what our true passions are. This is why I am confident that you will all be stronger because of having experienced this unfortunate event in our world's history. You are some of the best of the best, and we are excited about your future. In the meantime, we wish you safety and good health."
Though the future of COVID-19 is currently unknown, seniors still remain hopeful that they will be able to return to school by April 17 to enjoy their last moments together.
About the Writer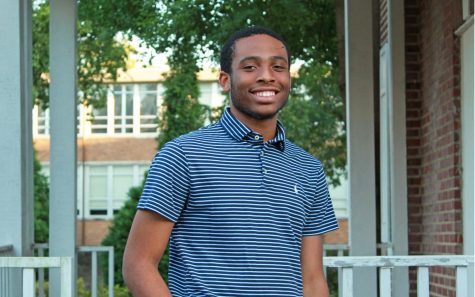 Cameron Thomas, Managing Editor
Cameron Thomas is a senior from the small town of Port Gibson, Mississippi. Serving as this year's Managing Editor and previously a copy editor, he enjoys...