MSMS soccer opens regular season with split matches against Louisville
The Blue Wave soccer teams hosted the Louisville High School Wildcats to open their regular seasons last Thursday, Nov. 7. MSMS split the matches with a win for the girls and a loss for the boys.
The Lady Waves took the 6-0 win, with three goals and an assist from junior Amanda Anderson. Seniors Tierah Macon and Taylor Willis along with junior Emily Berry each added a goal. Junior Weslyn McMurrin also scored an assist. 
Anderson, fresh off a solid performance in last weekend's New Hope Classic, credits her success to her teammates.
"As a whole, the team did a great job communicating and finding clear passes," she said. "It was easy to score with Emily Berry sending the ball through the open channels in the defense. After gaining a total of four goal scorers in one game, it was clear that we had gathered our confidence and that we were comfortable playing with one another."
Lady Waves' head coach Chuck Yarborough found their growth encouraging.
"We've been working on possession and finishing, and it was great to see our hard work evident on the pitch tonight," he said. "Every match is a chance to grow as a team and as individual players, and our girls took advantage of those opportunities tonight to start the season on a good note."
Goalkeeper Camille Newman preserved the clean sheet with 3 saves on the night.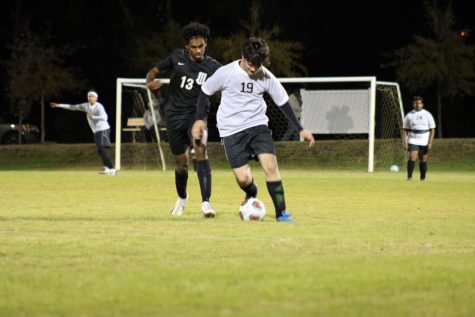 In the nightcap, Louisville's boys pulled a slight 1-0 victory over the Blue Waves. Yarborough also coached the boys, filling in for Head Coach Tim Wood.
"It was a tough loss to open the season," Yarborough said. "The boys possessed well and managed the flow of the match, but we just weren't able to finish against an athletic Louisville side. That said, we have identified points to work on, and they'll get back to work next practice."
Coach Wood hopes to continue building on the team's growth.
"This is just another step in the process. We want to keep it out first and score second," Wood said. "This was a huge step forward for us."
Both MSMS teams returned to action Tuesday, hosting the New Hope Trojans. The Blue Waves will take the field again on Friday, Nov. 15, to begin district play against the St. Andrew's Saints. Girls will play at 5:30 followed by a boys match at 7:00.