Erin Williams: Emissary & Athlete
Tyler Branch, Staff Writer / Social Media Assistant
April 29, 2019
Erin Williams, the next senior in our continuing spotlights, lives by a simple motto.
"Accept what is, let go of what it was, and have faith in what it will be" (Sonia Ricotti)
Hailing from Hattiesburg, MS, Erin Williams, attended Hattiesburg High School before she came to The Mississippi School for Mathematics and Science to further her education and offer herself more opportunities she felt her former school would have. Before she attended the Mississippi School for Mathematics and Science, senior and emissary Erin Williams was an active member of many clubs. "I ran track and field, and I played soccer and volleyball," Williams added, "I was also a member of student council and digital media."
Williams continued her school spirit and became active in clubs here at MSMS. She holds the communication director position in Black Student Alliance, performs the violin in Blue Notes, plays soccer, maintains the tournament chairperson position in Mu Alpha Theta, and steps in Blu Diamondz. Above all, Williams is one of the many outstanding and friendly emissaries here at MSMS.
"I wanted to be one of the representatives MSMS, so I became an emissary. I love being able to introduce and share MSMS with potential students so that they can one day enjoy it too," Williams explained.
When she isn't completing her Calculus II homework, she enjoys hanging out with friends, listening to music, eating, watching Youtube videos and watching Netflix. "I like watching shows like The 100, All American and Stranger Things." She also explained that she does not discriminate when it comes to music. "I like listening to different genres of music. if I love how the song sounds, I listen to it regardless of the genre," Williams explained.
After graduating from high school, Williams plans to attend Southeastern Louisiana University, majoring in computer science. "I want to become a computer software developer because it seems like a job that I could excel at while having fun," Williams explained.
At the end of her interview, I asked Williams were there any more exciting things about herself she would like to share, and she did not hold back. "There are some exciting or weird things about me," Williams stated, laughing, "I can say the alphabet backward, one of my front teeth is fake, and I've had stitches four times."
Williams leaves this advice for the junior class: "Your grades do not define you."
Hang on for a minute...we're trying to find some more stories you might like.
About the Writer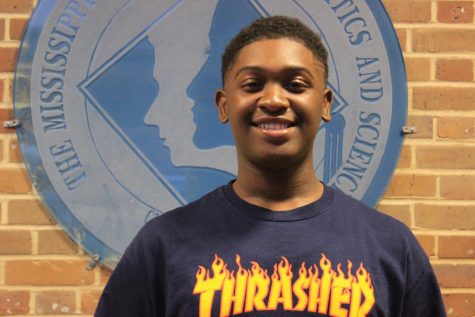 Tyler Branch, Social Media Assistant
Tyler Branch is a senior who is a part of The Vision. He enjoys hanging out with family and friends and showing goats in the 4-H. He is also a part of...