MSMS Represents at Starkville Pride Parade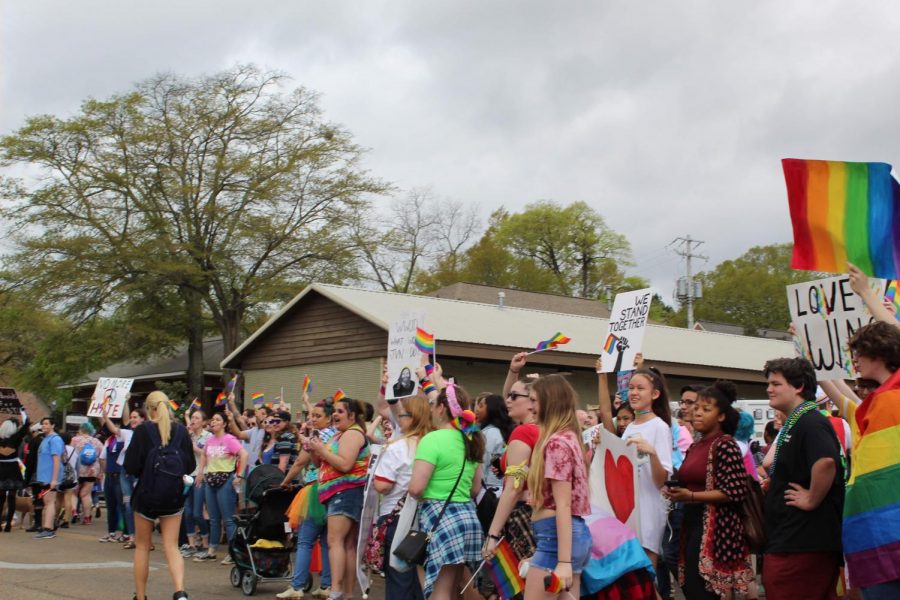 MSMS's Gay-Straight Alliance club members joined an estimated five hundred other rainbow-decked supporters as they took to the streets at the second annual Starkville Pride Parade. Part of the Starkville Miss.'s Pride weekend festivities on March 30, the parade began at the Queer Art Market in Fire Station Park and traveled down Montgomery St., University Dr., Washington St., and Lampkin St. for approximately a mile. Police officers closed the streets as the participants marched.
The MSMS GSA was able to organize their trip to join the parade through the efforts of teacher Dr. Kayla Hester and GSA co-president Millie Perdue.
"It was really nice to see everyone get together to support love. There were lots of allies, and even the Episcopal Church in Starkville was decorated with rainbows," said Perdue.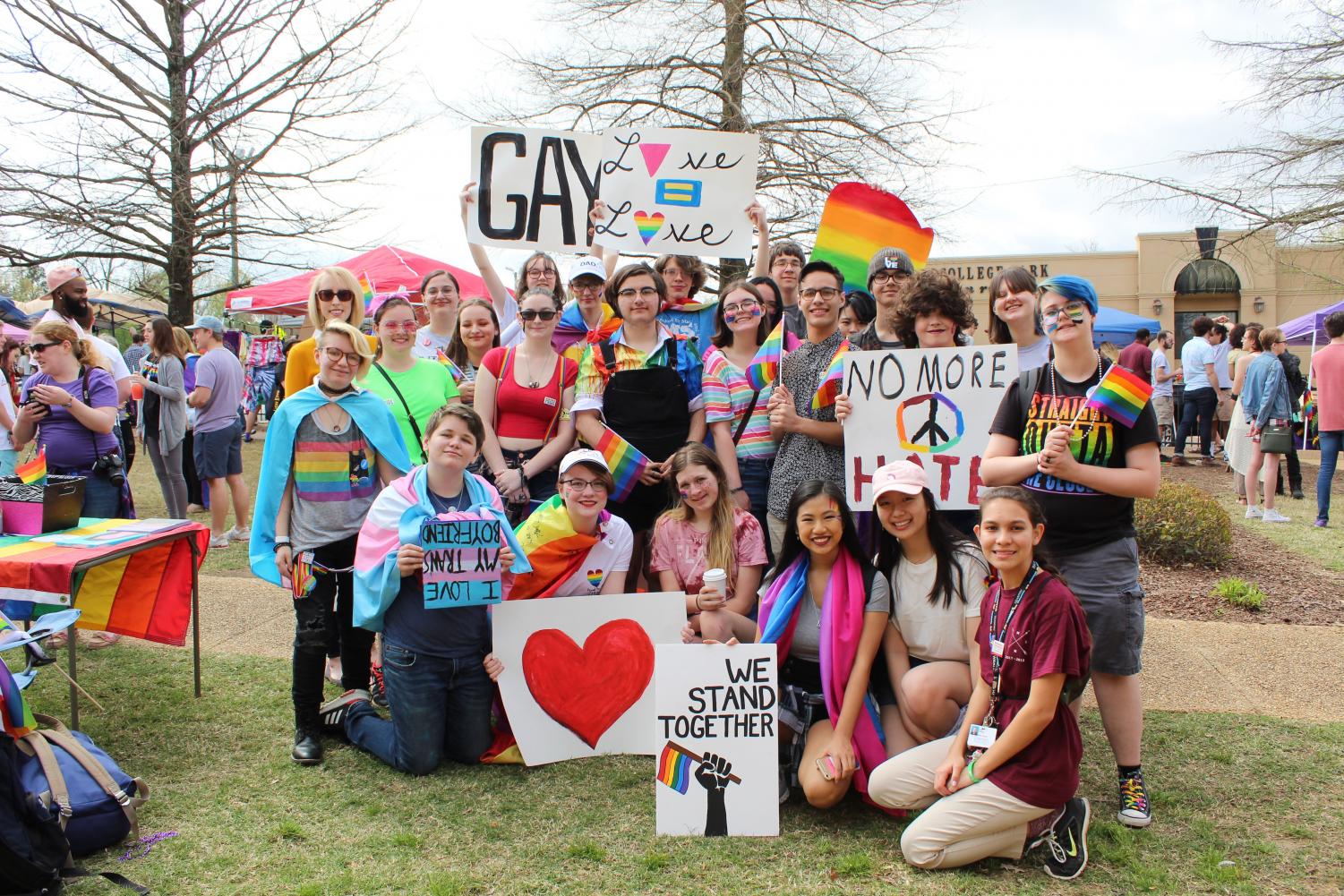 Protestors were present from the Consuming Fire Fellowship in Gloster, Miss. In the past, the Fellowship has visited college campuses including Mississippi State University and the University of Mississippi to preach their interpretation of the Bible.
Parade participants responded to the protestors despite instructions not to engage with them.
"There was a man with a whistle and giant trash can. [He] would bang on the trash can and blow his whistle every time a protestor tried to yell. It was very funny to me," mentioned Perdue.
Sean Mackin, Starkville native and student  from New York University, objected to the protestors. Mackin noted the differences between Pride parades in New York versus the Saturday parade in Starkville.
"There's no counter-protestors in New York, because if there were, they'd probably get jumped. In New York, it's a lot more open, more to do with [transgender] acceptance now and it's a political movement. Here, it's more like #rainbowgoals, but other than that, they're pretty similar. Everyone is having a good time, and it's cute."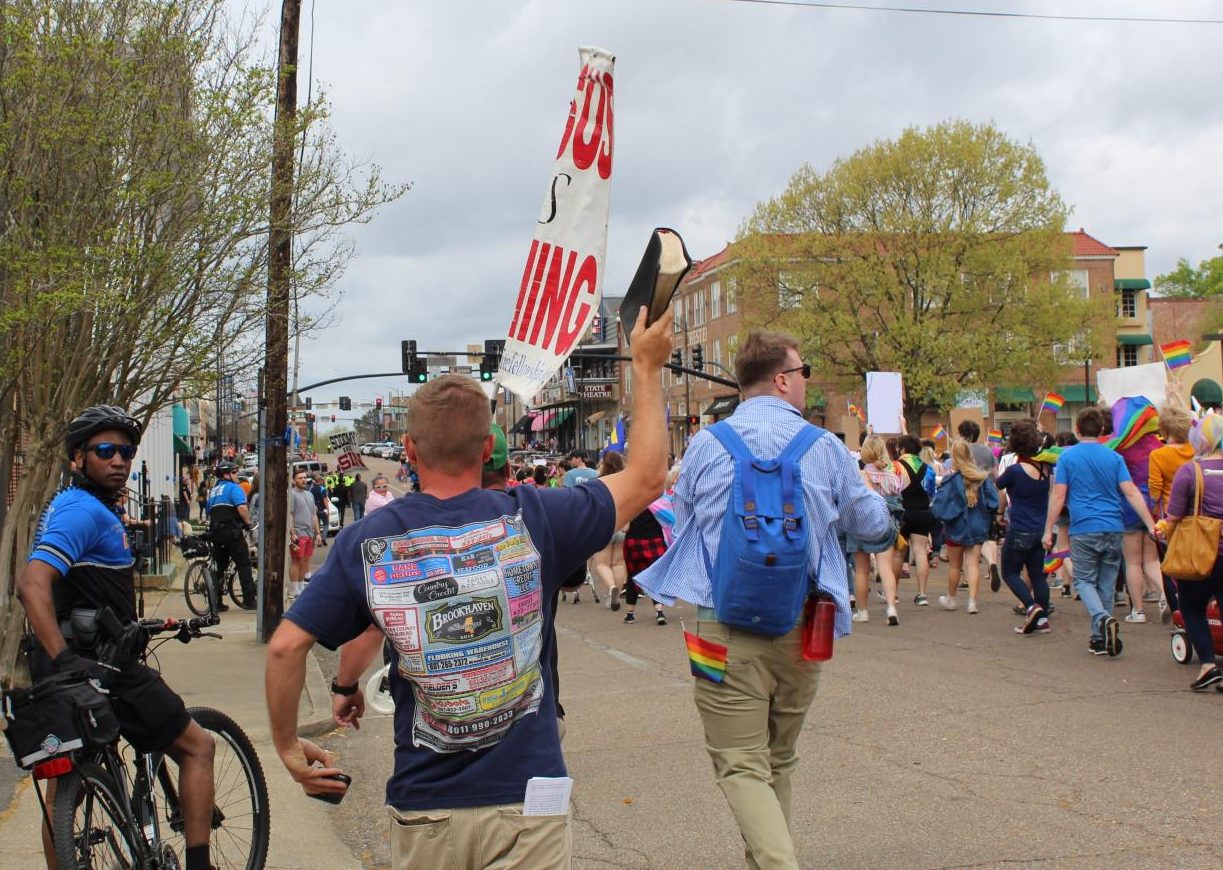 Protestor Joshua Williams of the Consuming Fire Fellowship cited the Bible in his reasoning for opposing the parade.
"The Bible says to go into all the world and preach the gospel to every creature, and the Bible also says that homosexuality is a perversion," said Williams.
"
I think if you love Jesus, you're gay. I support every kind of love. And if you don't, you suck."
— Sean Mackin
"God hates pride. It's the word of the Devil. It's what threw Satan out of Heaven. When man embraces pride, as men who are not born again do, they become sinners. And God's wrath is against them. And we're trying to warn them," said another protestor.
Concerning his choice to respond to the protestors, Mackin said, "I was just deploying their strategy on them. And it didn't work on them, so I don't know why they thought it'd work on us. I think if you love Jesus, you're gay. I support every kind of love. And if you don't, you suck."
Following the parade, Starkville Pride held a screening of the 2017 movie "Call Me By Your Name" and a drag race in the evening.
In a Twitter post, Starkville Mayor Lynn Spruill relayed her support for the parade.
The Pride Parade has started. Not as large as last year but lots of folks participating and lining the streets. pic.twitter.com/vUn3SWtn7l

— Lynn Spruill (@lynn_spruill) March 30, 2019
In 2018, the Starkville Pride committee faced difficulty when the Starkville Board of Aldermen denied the necessary special event permit in a 4-3 vote. The Board reversed its decision following a discrimination lawsuit, the deciding vote cast by Mayor Spruill when Alderman David Little abstained.